About Us
Press Releases
2014-R109
September 3, 2014
NTT Communications Releases Details of Low-latency Service Used
by TBS for Football News Coverage in Japan

- Broadcaster Highly Evaluates IP System's Performance -
TOKYO, JAPAN - NTT Communications Corporation (NTT Com), the ICT solutions and international communications business within the NTT (NYSE: NTT) Group, announced today the details of the IP connection service it provided to Tokyo Broadcasting System Television, Inc. (TBS), one of Japan's nationwide terrestrial broadcasters, for high-quality, low-latency news—both live and prerecorded—of Japan's national football team during the World Cup in Brazil this summer.
Compared to conventional satellite relay systems, the connection service provided through NTT Com's Global IP Network realized a high-performance, cost effective TV broadcasting solution. TBS gave high marks for the system's performance, which enabled the company to quickly convert IP-transmitted data from Brazil into high-quality TV broadcasting content in Japan.
The Global IP Network's low-latency connection enabled near-real-time live conversations with voice delays of less than one second between people in the TBS TV studio in Japan and the Japanese national team's training camp in Brazil, approximately 20,000 km away from Tokyo. In the case of a conventional Satellite News Gathering (SNG) system, delays are typically three to four seconds because signals from an on-site location are sent to a communication satellite and must travel multiple hops in the signal path, resulting in broadcasts that have something less than a "real-time" feel.
NTT Com's IP system also facilitated exceptionally fast transmission of footage that had been converted into file-based data. The massive files were used for broadcasts of prerecorded content, such as interviews of team personnel. TBS was able to transmit the files in 30 to 40 percent less time than the actual length of the footage, enabling prompt broadcasting in Japan with minimal delay.
NTT Com, working with its Brazilian subsidiary NTT Comunicacoes do Brasil Participacoes Ltda. and other partners, established the high-speed, low-latency relay broadcasting network by combining the Global IP Network with digital wireless transmission and LAN equipment of a local carrier.
"NTT Com's stable Global IP Network connecting the Japanese national team's training camp in Brazil and our TBS studio in Tokyo enabled stress-free broadcasting and data transfer," said Takayuki Shinaji of TBS's Technology Department. "NTT Com comprehensive, one-stop solution, combining the main connection, return video, communication lines, internal telephone and all other necessary communications, provided a highly efficient broadcasting package. Satellite transmissions using SNG and fly-away technology will remain the standard for now, but our broadcast of this year's football event with the capable assistance of NTT Com has demonstrated the vast potential of global IP transmissions going forward."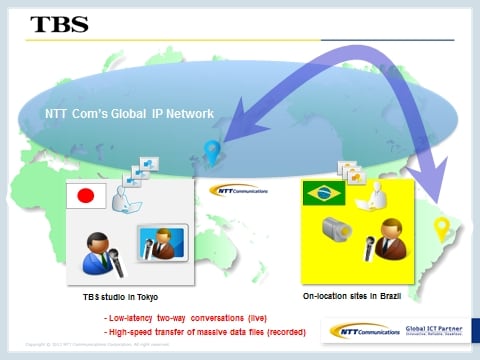 | | |
| --- | --- |
| | |
| On-site media center in Brazil | Live broadcasting from Brazil |
Consistently ranked among the top networks worldwide, NTT Com's Tier-1 Global IP Network covers Asia, North and South America, Europe and Oceania, and provides the best possible environment for data and video transport through a single autonomous system number (AS 2914). NTT Com is one of the top two global wholesale IP providers and the number one provider in Asia according to the Renesys Wholesale Rankings.
About NTT Communications Corporation
NTT Communications provides consultancy, architecture, security and cloud services to optimize the information and communications technology (ICT) environments of enterprises. These offerings are backed by the company's worldwide infrastructure, including leading global tier-1 IP network, Arcstar Universal One™ VPN network reaching 196 countries/regions, and over 150 secure data centers.
www.ntt.com | Twitter@NTT Com | Facebook@NTT Com | LinkedIn@NTT Com