About Us
Press Releases
2014-R097
August 1, 2014
NTT Communications Launches Globally Unified
Employee Contacts Data-management Infrastructure

- "Data Federation" Links to Multiple Cloud Services of NTT Com -
TOKYO, JAPAN - NTT Communications Corporation (NTT Com), the ICT solutions and international communications business within the NTT (NYSE: NTT) Group, announced today the immediate launch of Data Federation for sharing, managing and updating office contact data. Data Federation infrastructure is now incorporated seamlessly in multiple communication services offered via NTT Com's Enterprise Cloud.
In the case of organizational groups that use multiple contact management systems, system administrators can be burdened with time-consuming data integration and updating tasks when structural changes in the group occur. Data Federation, however, shares, manages and updates contact data among multiple services to greatly reduce these burdens, and to ensure that data remains current for seamless global communication.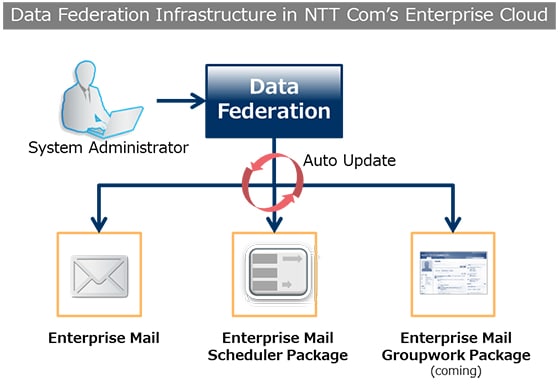 Contact data, such as names, e-mail addresses, phone numbers, work units, etc., of multiple services are linked by Data Federation for easy access. Enterprise Mail users, for example, can use a unified global address book to display multiple layers organized by country or domain, even if mail domains differ according to the person's country of business.
Supported services
Enterprise Mail: powerful Enterprise Cloud mail service using NTT Com's cloud infrastructure
Enterprise Mail Scheduler Package: Schedule-management service linked to Enterprise Mail
Enterprise Mail Groupwork Package (Enterprise SNS): Enterprise SNS for project communication and easy information sharing (coming soon)
Note: Additional services are planned to be added.
Data Federation is now supporting a variety of Enterprise Mail services available in Singapore, Vietnam and Malaysia.
About NTT Communications Corporation
NTT Communications provides consultancy, architecture, security and cloud services to optimize the information and communications technology (ICT) environments of enterprises. These offerings are backed by the company's worldwide infrastructure, including leading global tier-1 IP network, Arcstar Universal One™ VPN network reaching 196 countries/regions, and over 150 secure data centers. NTT Communications' solutions leverage the global resources of NTT Group companies including Dimension Data, NTT DOCOMO and NTT DATA.
www.ntt.com | Twitter@NTT Com | Facebook@NTT Com | LinkedIn@NTT Com