About Us
News
2013-R051
NTT Communications Corporation
June 4, 2013
NTT Com Takes 74% Stake in Thai DC Service Provider Digital Port Asia
TOKYO, JAPAN - NTT Communications Corporation (NTT Com) announced today that it acquired a 74% share of Digital Port Asia Limited (Digital Port), a provider of data center services in Thailand, on June 3.
Digital Port was established in 2012 by Mr. Montri Anivat and his family, who founded Unitrio Technology Limited, a leading builder of data centers. Digital Port is scheduled to open a large data center in Amata Industrial Park in a suburb of Bangkok, where many multinational companies are based, in June 2014. The 9,600 square-meter facility will accommodate about 1,400 racks, making it one of the largest data centers in Thailand. As a dedicated data center it will ensure high quality and its flood-free location will contribute to robust reliability.
Many Japanese and other multinational companies are expanding their operations in Thailand against the backdrop of robust economic growth in this country and the surrounding Greater Mekong Subregion. Data center services are in high demand among companies looking to optimize their ICT environments and strengthen business continuity planning (BCP) following the destructive floods of 2011.
Motoo Tanaka, Senior Vice President of Cloud Services at NTT Com, said, "BCP strengthening is a key focus of our cloud-service expansion plan in Thailand. Digital Port's new data center will be a highly reliable facility on its own, and by combining it with existing data centers in the country, we expect to achieve even greater reliability for enhanced BCP solutions. We also are delighted that this acquisition will further strengthen the infrastructure supporting NTT Com's global seamless cloud services."
NTT Com, as part of implementing its Global Cloud Vision strategy, offers data center services in over 140 countries under the Nexcenter™ brand. Going forward, the NTT Com group looks forward to adding a diversifying range of global, seamless cloud services to its one-stop ICT solutions in Thailand.
About Digital Port Asia Limited
Location: 17/178 Moo 4 Prachachuen Road, Tungsonghong, Laksi, Bangkok 10210, Thailand
Business: Cloud services, colocation services, managed services and Internet service provision
Rendering of Digital Port's new data center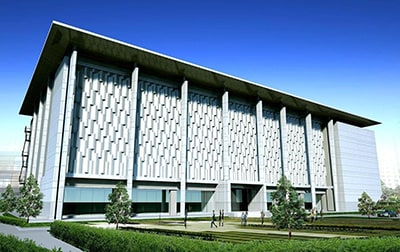 About NTT Communications Corporation
NTT Communications provides consultancy, architecture, security and cloud services to optimize the information and communications technology (ICT) environments of enterprises. These offerings are backed by the company's worldwide infrastructure, including leading global tier-1 IP network, Arcstar Universal One™ VPN network reaching 160 countries/regions, and over 140 secure data centers. NTT Communications' solutions leverage the global resources of NTT Group companies including Dimension Data, NTT DOCOMO and NTT DATA.
www.ntt.com | Twitter@NTT Communications | Facebook@NTT Communications | LinkedIn@NTT