Message from the President & CEO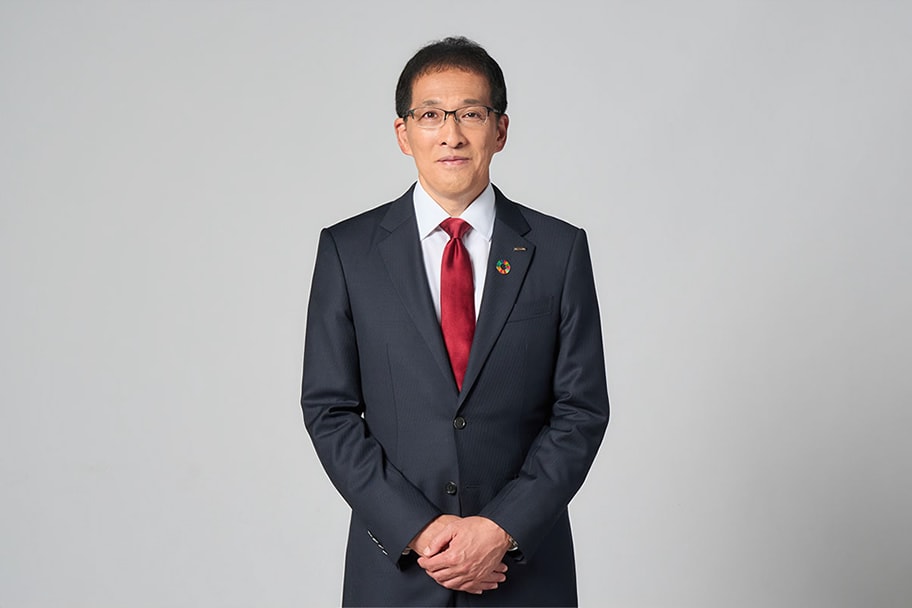 We will co-create with customers and partners to deliver new value for the new normal in the wake of COVID-19 and help realize a sustainable society.
Our daily lives and society in general have been profoundly transformed by the COVID-19 pandemic. The rapid dissemination of diverse communication methods, workstyles and learning experiences based on remote environments has also altered the values of our customers. Under the impact of the pandemic, NTT Communications has spearheaded the transition to the new normal by mobilizing its ICT resources to powerfully promote its Flexible and Hybrid Workstyle*1 model. As a result, our efforts have led to remarkable achievements in higher productivity and flexible workstyles. This is the key to our mission of giving back to society by applying our practices to develop future businesses.
In January 2022, NTT Communications along with NTT COMWARE will become members of the reorganized NTT DOCOMO Group, which will open up new worlds by expanding Group business across mobile services and solutions. In regard to corporate business, the NTT Communications Group will be positioned to offer a one-stop service for large enterprises as well as small and medium-sized companies. This means that our promotion of digital transformation (DX) in society and industry, based on our core strategy of Mobile First /Cloud First, will strengthen our contribution to addressing diverse social issues.
Last year, we formulated our Re-connect X medium-term business vision. As we become a member of the new DOCOMO Group, we will continue to uphold this business vision and strive to reconnect society and industry using our new fixed-mobile convergence services and solutions toward realizing a sustainable future. We will pursue even higher quality in our business of connecting things and activities to continue providing new value to society in the new normal while expanding the possibilities of DX solutions by generating added value as a new platformer with strengths in data collection, storage, analysis, and feedback. By reinforcing the ICT infrastructure and using data, we will create or recreate connections between a broad range of targets including individuals, local communities, industries, and society, which affords endless possibilities for business. In addition, we will accelerate the pace of innovation and the creation of new solutions by actively co-creating with our customers and partners.
In May 2021, NTT Communications formulated a Sustainability Policy to replace its Fundamental CSR Policy. The new policy declares our commitment to realizing the Sustainable Development Goals and the Creating Shared Value model, which are universal objectives that transcend the concept of corporate social responsibility. We will meet stakeholder expectations by deploying ICT to resolve diverse social issues while also reducing our CO2 emissions to zero and becoming carbon neutral*2 by fiscal 2030 to help realize our vision of a sustainable society.
*1 A flexible workstyle model that enables workers to freely choose the location and time of work and a hybrid workstyle that combines real and digital working environments.
*2 The reductions are targeted at Scope 1 (direct greenhouse gas emissions by the Company) and Scope 2 (indirect emissions associated with the use of purchased electricity, heat, or steam) emissions under the Greenhouse Gas (GHG) Protocol.
Toru Maruoka
President & CEO
Representative Member of the Board of the Company
NTT Communications Corporation