Message from the Chairman of the CSR Committee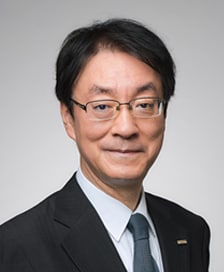 Promoting CSR Activities Suitable for an ICT Company to Help Build a Sustainable Society
The SDGs were adopted at a UN summit meeting in September 2015 as shared international objectives and have now entered our awareness as a social issue to be pursued by countries and organizations as well as individuals.
The Fundamental CSR Policy of the NTT Communications Group consists of four elements that also serve as our priority areas: society, the environment, human resources, and corporate governance, the last of which serves as the foundation of the first three. Each area is clearly expressed to ensure that employees have a sound understanding of the Company's direction and to encourage personal efforts to create value for society and confirm a thorough commitment to social responsibility. Since the NTT Group's declaration of support for the SDGs in fiscal 2016, we have pursued our initiatives by linking the Priority CSR Areas with relevant SDGs.
We harness advanced technologies to provide ICT solutions that may hold the key to resolving the complex, diverse issues faced by contemporary society such as climate change, a declining birthrate and an aging population, and information security. Today, as the world is coming together to create a better future, the joy of contributing to society through business activities holds significant value for our employees.
The NTT Communications Group will continue to achieve sustainable growth to fulfill its heavy responsibility as a leading ICT company responsible for vital social infrastructure. Under the Group's newly established mission statement, we work in concert to pursue CSR activities that meet public expectations and needs and contribute to creating a sustainable society.
Tomohiro Ando,
Executive Vice President