Cases of Re-connect X 05
NTT Communications is addressing social issues through initiatives based on its Re-connect X business vision.
Total Solution for Accounting
and Invoicing that Supports
the Shift to Teleworking
for the Accounting Department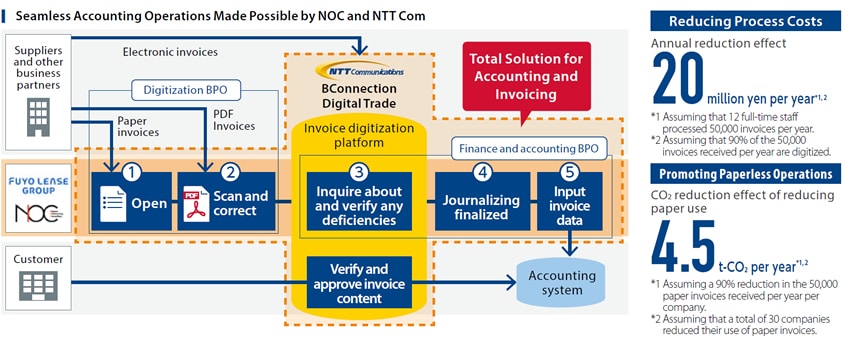 Growing Need for Digitizing Invoices
While widespread adoption of teleworking during the pandemic has increasingly led to flexible workstyles, the hurdles against introducing teleworking have remained high for the accounting department, where many operations are not suitable for processing at home or outside the office. Handling invoices is particularly affected by the distinct business practices and procedures of a company as well as business partners, making it difficult to revise the operation without mutual cooperation. The daily operations of the accounting department, however, are expected to undergo major change following the revision of the law on preserving national tax records in electronic form, scheduled to come into effect in January 2022, and the introduction of a registration-based consumption tax invoicing system in October 2023. Along with advances in promoting paperless operations, there is a heightened need to digitize invoices, which has led to growing interest in solutions for supporting teleworking at accounting departments.
Offering Support to Raise Operational Efficiency in Accounting Departments by Involving Business Partners
NTT Communications and NOC Outsourcing & Consulting Inc. (NOC), a member of the FUYO LEASE GROUP, have jointly launched the Total Solution for Accounting and Invoicing to support accounting departments seeking to shift to full-scale teleworking, including enhanced productivity, digitizing operations, and reducing paper-based operations. The solution offers a single package that combines BConnection Digital Trade, a cloud-based invoice digitization service provided by NTT Communications, and the BPO*1 service for accounting operations that leverages the know-how accumulated by NOC over a number of years. We support a complete transition to teleworking by handling the series of operations for the accounting department, which includes receiving, opening, and scanning paper; PDF and electronic invoices; inquiring about deficiencies in the scanned data; journalizing accounting data by accounting professionals; and inputting data to accounting systems.
The PDF delivery solution model, which is the current mainstream, allows for only one-way communication from the invoice issuer to the recipient. In contrast, BConnection Digital Trade provides a platform*2 that can be used by both the issuer and recipient and is characterized by the exchange of metadata. With invoices exchanged via the platform, users can register journalized information as well as apply for and approve requests for payment. The data can be linked to the company's own accounting system, which is expected to accelerate the pace of business process reform.
Developing a Standard Service for Invoice Digitization Comparable to Global Business Practices
Introducing the Total Solution for Accounting and Invoicing will not only reduce paper invoices but also provide major benefits in terms of reducing process costs and work hours associated with the operation. While the global use of electronic invoices is more advanced than in Japan, future transmissions based on metadata are expected to replace PDF invoices to become the mainstream. NTT Communications will continue to improve this solution and enhance our support to realize workstyles that meet the needs of remote workers.
Ryutaro Hirota
Manager,Application Services

There is currently a momentum for change in the area of electronic invoicing between businesses, which had been slow to spread in Japan due in part to its longstanding paper-based culture. The Total Solution for Accounting and Invoicing is a service that will promote a customer's shift to remote work. We provide a platform solution that fundamentally changes the business process. I am convinced that the introduction of this solution represents an extremely significant service for accelerating DX at our customers as well as for developing a sustainable society.
Note: The content of this article is as of December 2021