Cases of Re-connect X 03
NTT Communications is addressing social issues through initiatives based on its Re-connect X business vision.
Halving Electricity Consumed
by Air-conditioner with the World's
First Cooling System Using
a New Refrigerant

Urgent Need to Reduce Power Consumption at Data Centers
The increasingly ubiquitous presence of ICT throughout society has led to higher power consumption at data centers that house numerous servers and network equipment. There are high hopes for significantly reducing electricity use through initiatives targeting air-conditioning, which accounts for around 30% of the power consumed by data centers. Current systems for thermal energy management based on hydrofluorocarbons (HFCs) approved for use as air-conditioning refrigerants have reached their limits. As a high-pressure gas, HFCs are associated with issues such as the cost of hiring qualified staff to manage the gas and government directives for reducing the volume of production.
Development of a Breakthrough Cooling System that Uses a Non-CFC Refrigerant
NTT Communications and NEC Corporation have developed the world's first cooling system based on a new low-pressure, non-chlorofluorocarbon (CFC) refrigerant to meet the air-conditioning needs of telecommunications facilities inside data centers. The new refrigerant will not deplete the ozone layer, features fire resistance and low toxicity, and is not subject to safety regulations governing high-pressure gases. Joint trials conducted at our data centers from November 2019 to July 2020 verified that our system reduces power consumption by 50% compared to conventional cooling systems. The new system adopts local air-conditioning for each rack, as opposed to systems that cool entire floors. The racks are arranged to direct and gather exhaust heat from equipment in a single row and releases the heat outdoors using phase change technology. This is the novel concept behind our system and represents our combined expertise on thermal management systems accumulated over the years. We also ensured versatility in system construction by adopting a structure that facilitates retrofitting to existing floors and server rooms.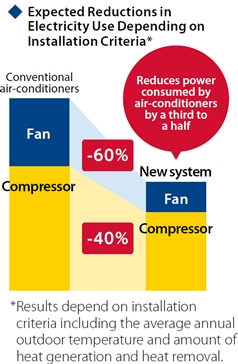 Providing Benefits to the Global Environment as the New Mainstream in Air-conditioning Systems
We are planning to commercialize the cooling system using the new refrigerant through NEC in 2023, and considerations are being made for the secondary use of waste heat for hot water, power generation, and agriculture. We also plan to install the system in hospitals and commercial complexes that require large-scale cooling systems. Switching from a conventional air-conditioner to our system is expected to reduce annual electricity use by 55 GWh per 1,000 units, which is equivalent to about 30,000 tonnes of CO2. Widespread use of our system is expected to significantly reduce power consumption and help alleviate the global environmental load.
Akio Tsuzuki Manager,
Infrastructure,Infrastructure Design

We have been jointly working on this project with NEC for roughly five years toward striking a balance between addressing global warming and developing a sustainable business. The impact of this new air-conditioning system on reducing environmental load is by no means small. We will help achieve carbon neutrality through our thermal solution business, which is also relevant to our goal of accelerating the pace of DX across society.
Note: The content of this article is as of December 2021