Dialogue 2022
The NTT Communications Group is creating opportunities to conduct discussions with various stakeholders,
with the view to engaging in a dialogue that facilitates closer communication.
Please click here for the dialogue back number
Promoting Corporate Citizenship through the Actions of Individual Employees
Acting as a Corporate Group that Responds to Society's Needs in the Era of Sustainability Management
NTT Communications seeks to realize a sustainable future by providing ICT solutions that leverage its strengths. We are guided by our Sustainability Policy, under which promotion of corporate citizenship is one of the Priority Activities in the Priority Area of Society.
NTT Communications has been involved in a variety of social contribution activities. However, our proactive introduction of flexible and hybrid workstyles in the wake of the COVID-19 pandemic made us recognize the need to revise the way we conduct our activities, so we launched pro bono services to apply our professional skills and experience. For this dialogue, we invited Ikuma Saga, Founder and President of Service Grant Japan, a certified NPO with a proven track record in partnering with companies in pro bono projects, to join our executive and employees and discuss how to promote and transform corporate citizenship among all employees into a company-wide response to society's needs.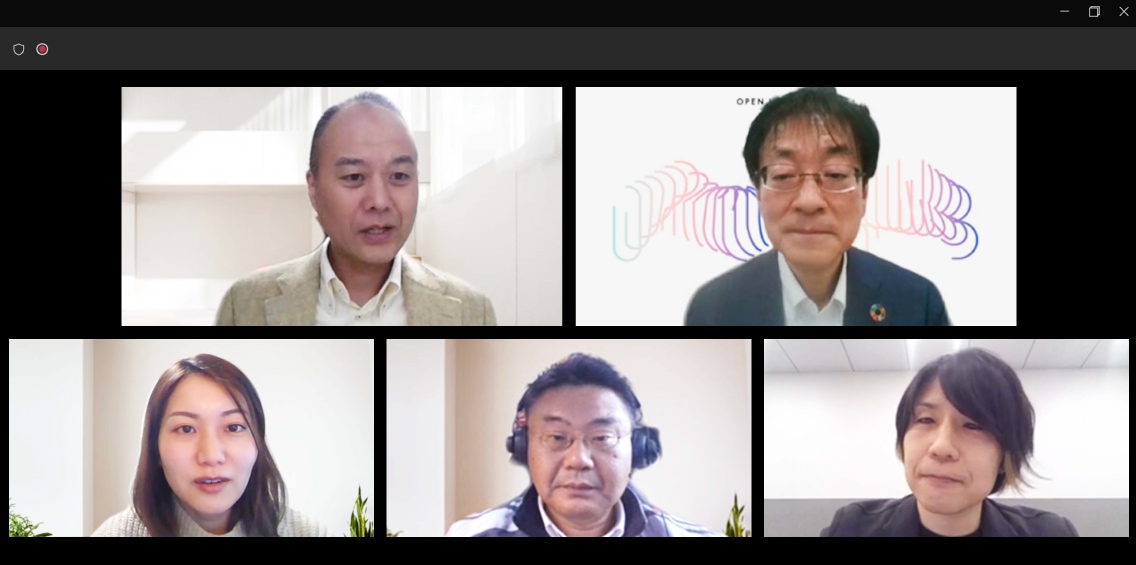 Participants

Founder and President,
Service Grant Japan
Ikuma Saga

Third Business Solutions Department,
Business Solution Division
Kaoru Wada

Digital Transformation Division
Tatsuya Yamamoto

NTT Com Engineering Corporation
Hiroshi Yamaguchi

Executive Vice President,
CSR Committee Chairperson
Tomohiro Ando
About Pro Bono
Pro bono, derived from the Latin pro bono publico, means "for the public good" and can be regarded as a form of social contribution in which professional skills and expertise are offered free of charge for social and public purposes, and there have been more and more pro bono services offered through, not only legal, but also other professions. In Japan, since around 2010, an increasing number of companies have been implementing pro bono as part of their sustainability strategies, while corresponding offerings that connect NPOs that address social issues with pro bono services are becoming increasingly common. From October 2022 to January 2023, nine employees from the NTT Communications Group participated in a pro bono project conducted jointly by the NTT DOCOMO Group and Service Grant Japan, a certified NPO.
Pro Bono Program Fosters Employees' Problem-Solving Skills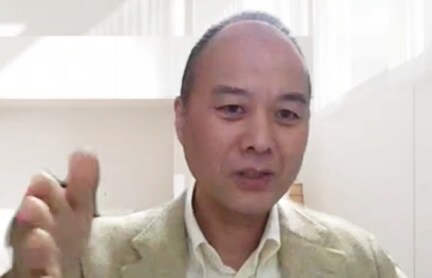 Saga

▶

Thank you for inviting me to join today's dialogue. I'm a representative of Service Grant Japan, a certified non-profit organization that has been promoting pro bono programs since 2005. At the time of our founding, the term "pro bono" wasn't widely known in Japan, but as CSR and sustainability activities have recently gained momentum among the business community, more people are becoming familiar with the term and pro bono activities are expanding. In addition, in the implementation guide to Keidanren's revised Charter of Corporate Behavior, released last December, "social engagement by employees" is listed as a key consideration, and we feel that pro bono work is one way to execute that, so I feel it's likely to attract greater attention. I believe pro bono work would benefit the NTT Communications Group in its promotion of sustainability as well, and I look forward to exploring the idea further with you today.
Ando

▶

Thank you very much for this valuable opportunity. I would like to start by explaining our efforts to promote sustainability and other initiatives. The need to address various issues and risks on a global scale, including the severity of climate change, has become even more urgent to ensure a sustainable society and global environment for the next generation and beyond. Moreover, the actions of each of us as well as the role of the corporate sector, which has a particularly significant impact, are becoming increasingly important. The NTT Communications Group has taken these into consideration in the context of the SDGs and ESG, both in Japan and overseas, as well as the associated growth in social demands and expectations for corporate action. The Group consequently formulated a new Sustainability Policy in May 2021 to respond proactively and in a way that is more directly linked to its business. Under this policy, we have identified the Priority Areas of Society, Environment, Human Resources, and Governance for realizing a sustainable future, each with designated Priority Activities and materiality. Firmly grounded in Our Mission and Our Core Beliefs, the policy is focused on realizing a sustainable future based on all of us taking action, exercising initiative, inspiring each other, and demonstrating our individual talents in response to society's needs as we promote our business vision and undertake our daily tasks and business activities. We are promoting this policy by emphasizing these points. As part of this effort, we have set corporate citizenship as one of our Priority Activities and materiality, and as we engage in activities to contribute to society as a corporate citizen, we have sought opportunities to enable each employee to think, learn, and experience what it means to respond to society's needs from various perspectives and to apply, from a fresh standpoint, this knowledge to our daily operations, business activities, and promotion of CSV. I believe that pro bono work plays a major role in promoting our efforts. Joining us today are three employees from our Group who actually took part in a pro bono project from last October to January, with the support of Service Grant Japan. I hope this dialogue will be a meaningful exchange of opinions for the future, with input based on the experiences of the participants.
Saga

▶

This may sound like an old story, but it used to be quite common to view social contribution as unrelated to business—as something that should be considered separately. In recent years, however, the idea that companies should directly engage in addressing social issues has gained broad recognition, and top executive leadership is now taking the initiative in communicating this view.
Consequently, this has led to a change in perception, held until quite recently, that CSR and social contribution activities were exclusively handled by specifically designated departments. This is no longer the case. It wouldn't be an exaggeration to say that acquiring a certain level of social awareness is becoming a basic requirement for doing business and is expected of each employee. Today, a considerable number of employees aspire to serve society in some way. Generation Z is particularly interested in making a difference, and an increasing number believe that simply clinging on to a company is no guarantee for personal growth or future success as employees. There had been a tendency to negatively view pro bono and volunteer work as distractions from an employee's main job. Now, though, management strategy is increasingly expected to link business and sustainability in order to address social issues. The beauty of pro bono work is that employees can engage in it alongside their main jobs, and then apply what they've learned in their workplaces. You can engage directly with society using your experience and skills, even if it's only a few hours a week. Companies must create opportunities to meet the needs of employees who want to contribute to society and grow through exposure to opinions outside their workplaces. I feel that the time is ripe for choosing pro bono work as a realistic and concrete means of achieving this.
Realizing the Joy of Contributing to Society through Pro Bono Work
Wada

▶

For about three months from October to January of this year, five employees from the DOCOMO Group, including the three of us, participated in a pro bono project for the first time. We offered our assistance at 4Hearts, a general incorporated association dedicated to addressing social problems faced by people with hearing disabilities, mainly in Chigasaki City, Kanagawa Prefecture. 4Hearts advocates the concept of "slow communication," which aims to create a better world to live in by increasing the number of people who can be considerate of other people's points of view and flexibly communicate not only with the hearing impaired in their daily lives but also with those who speak other languages, the elderly, and members of the LGBTQ community, or in other situations where communication barriers can easily arise. While the organization's main activities consist of organizing workshops and other events in

the local community and giving lectures at schools, it faces the challenge of creating a mechanism to generate income to further expand this concept. With that goal in mind, our objective was to conduct research, consider services, and establish a system to realize consulting and training services for B-to-C companies. They were looking for ways to approach the issue through collaboration with pro bono participants, which is where we came in. Our assistance specifically included conducting a needs assessment of B-to-C companies, considering specific proposals, and laying down concrete next steps. We were able to apply the skills and resources of Group companies and docomo Shops as targets of that assessment to present a concrete plan toward commercialization. The January 2023 submission of our proposal, which reflects the three months of action, was more positivity received than expected, and we also received word that the proposal was subsequently used to approach companies.
Yamamoto

▶

Participating in the pro bono project made me realize the depth of social issues faced by 4Hearts and other NPOs as well as the fire and energy they bring to resolving those issues. I joined this project with the hope of serving society in some way, and I was a little disappointed that I wasn't able to contribute more directly and was playing more of a supportive role, behind the NPO in doing its work. However, our proposal was appreciated for its excellent timing, which gave me a real sense of achievement and made me happy that in our own small way we were able to contribute to resolving a social issue through our pro bono activity.
Yamaguchi

▶

Through my efforts, I also learned a lot about social issues that I hadn't been strongly aware of, such as the real difficulties faced by people with hearing disabilities. I was uncomfortable with the fact that people with disabilities are the ones who must adjust to society in their lives, and I realized the importance of determination and action in creating a society where everyone can live with ease. These days, I try to respond when I see people with white canes on the street, by asking if I could be of any help, and this change in my behavior is clearly the result of my pro bono work.
Mutual Learning Process Instead of One-Sided Assistance
Saga

▶

Pro bono works involves teaming up with people you wouldn't normally interact with in your daily operations and collaborating with organizations you wouldn't likely come across along your main career path. Recently, incorporating innovation into business activities has become a key corporate concern, and I believe that one solution is to actively create such opportunities for collaboration and exchange through pro bono work. Furthermore, after listening to what the other dialogue participants have said, it seems they've gained significant insights from the organizations they have assisted. While people like you, from large corporations who participate in pro bono projects, are highly skilled in business, NPOs have experts on specific social issues. In other words, pro bono work is not about one-sided assistance or volunteering but rather an opportunity that invites us to develop mutual learning, awareness, and dialogue that leads to creating knowledge for each party. Without this, there wouldn't be any great sense of satisfaction and achievement for those who do pro bono work. I also believe that the accumulated impact of these activities has the potential of becoming an asset for a corporate organization.
Yamamoto

▶

In terms of offering our skills to solve problems, I feel that the five of us were able to contribute by successfully combining our individual strengths. As for me, I was initially interested in testing my own abilities by participating, but as we all worked together on the project, I felt a desire to finish the job as a team. I got the impression that you could gain more from pro bono work if you experienced it at a younger age.
Yamaguchi

▶

I originally imagined it to be one-sided assistance, but as Mr. Saga said, I felt we were supporting each other while learning from each other through our activities. I think the appeal and significance of pro bono work lies in the mutual learning process.
Wada

▶

It was such a unique experience to spend three months working on the same issue with people who I had met for the first time and were not connected in any way to my usual job, even though we were all employees of the same Group. To be honest, I felt quite confused as we sought to build a team under circumstances that differed from our normal work, with no supervisors or leaders. But in retrospect, I feel it was a period of much mutual learning. Though there were some difficult times when we were busy with our main jobs, we still met once or twice a week, and I think we gradually came together as a team. We have to take time away from our main jobs for pro bono work, which of course does not generate a salary. So, it would be tough to come through unless you have the motivation and enthusiasm to really be of service.
Yamamoto

▶

While Mr. Saga talked about doing pro bono work along with one's main job, in reality there were times when I had to do both at the same time, which was physically demanding. I had a particularly hard time shaping the proposal for the client and felt my motivation dwindle in the process. In the end, I managed to complete my task with the support of team members who were determined to give their all to the project. This allowed me to recognize my shortcomings, making the experience even more fruitful.
Yamaguchi

▶

For me, pro bono work is significant as an opportunity for learning through an exchange with those from different areas, and I feel it was a meaningful experience from which I gained considerable knowledge. Each person brought a different set of expertise and skills to the team, which made them dependable in various situations and gave me valuable insights. This pro bono program also gave me the opportunity to obtain direct feedback from customers, which is something I don't receive in my usual line of work. I believe that the opportunity to gain experience and awareness of a parallel career through pro bono work is a great benefit to participants.
Expanding the Pro Bono Community
Yamamoto

▶

With regard to the pro bono project we've been discussing, we freely applied and participated on our own initiative. If we were to expand the pro bono community within the company, however, I think we'd need to devise ways to actively attract people who are curious about such work and perhaps want to participate at some later date. For example, we could create a pre-registration system to provide information in advance to those who have signed up to do pro bono work.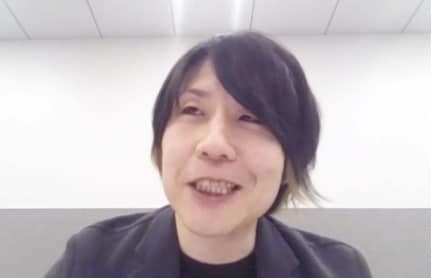 Wada▶Many people around me expressed interest when I told them that I was doing pro bono work. I think it's worth considering the means and opportunities to let more people know about the status of specific activities.

Yamaguchi▶ I also heard people say that they'd like to participate but were too busy with in their jobs to do anything else. One way to give future activities a boost is to offer the option of participating in pro bono work for a short period of time. To expand participation in such activities, it might be necessary to offer programs that minimize the burden on employees, such as the Pro Bono 1-DAY Challenge event organized by Service Grant Japan.
Yamamoto

▶

The term "pro bono" isn't well known within the company, so it may be difficult to generate interest in doing pro bono work. Also, "pro" is often associated with the word "professional," which might make people hesitate to take part in an initiative. I suggest giving pro bono work a nickname for internal use. For example, if we could publicize the initiative internally by saying something like, "The Kaientai Project is a pro bono project of the NTT DOCOMO Group," it would be easier to convey the objective, and in a more memorable way. At the same time, we should put more effort toward reporting on the results of our pro bono assistance within the company. By sharing the positive aspects of this work in attractive terms, as well as the hardships and failures, those who are genuinely motivated will be more likely to participate.
Wada

▶

In the latest pro bono project, we were required to separate participation in it from our main jobs. However, there was some inconvenience in being unable to use the same computer for both activities, and I feel that drawing too sharp a line between the two is an issue that needs to be addressed to make it easier for more employees to participate.
Ando

▶

Listening to your experiences enabled me to understand that pro bono activities involve utilizing one's business skills in an atypical environment that's not found within the company, engaging in mutual exchange and learning with NPO staff to come up with initiatives for resolving the social issues faced by the NPO and providing assistance in the process, building teams to give concrete form to the initiatives, and working through trial and error to develop the proposal. The participants also spoke about how their pro bono work served as an opportunity to experience at firsthand the depth of social issues and the passion shown by NPO members in seeking solutions. Pro bono work represents opportunities and initiatives that potentially allow participants to become more aware of society and the world in fresh ways, broaden their views and perspectives, and realize that their business skills are useful and can be applied in various areas of society, and it also brings happiness to those served. I realize that experiences gained through such activities are truly invaluable. I'm also very grateful for the many thought-provoking opinions offered by those who have actually worked on this project, in areas such as balancing the work with their main jobs and raising awareness of the initiative across the company, as well as suggestions for future issues, and improvements and ideas, for future pro bono activities. Although it may be a gradual, step-by-step process, we'd like to find a better way of engaging in this type of work in the future, taking into account the opinions of those who have participated.
Saga

▶

In pro bono work, it's very difficult to determine the extent to which we should respond to the needs of our clients, and I believe this is the most crucial part of that work. We call this preliminary agreement with the recipient "scoping," and while the project may fail if we push the wrong buttons at this stage, it often produces very good results if we get the scoping right. Given the rise in job-based employment and project-based workstyles in today's business scene, I believe that pro bono work has become an opportunity for developing practical skills in terms of how we utilize limited time and resources to achieve the desired results. At the very least, it provides experience that will certainly be useful when taking on the next project. I would also like to suggest that those of you who participated in the 4Hearts project explore the possibility of making use of the experience in your main jobs as well. The meaning of your pro bono experience will be even deeper if you can subsequently connect your thoughts and ideas to situations in the real world, instead of simply considering it as a one-time social issue project.
Ando

▶

Pro bono activities encourage social contribution as a company and offer experiences and training that are difficult to obtain in our daily operations. What's more, participants can gain a sense of accomplishment, self-confidence, and personal growth by overcoming hardships to complete the work through a team-building effort and overseeing an entire project and not just its separate parts. This in turn will stimulate creativity in our daily operations and the taking on of new initiatives while also promoting innovation and CSV. This has renewed my belief in the significant value that pro bono offers for corporate activities because of the excellent opportunities it can provide. The NTT Communications Group is currently focusing on enriching and expanding diverse opportunities and environments for the future we want to create based on Our Core Beliefs and in the area of human resources as described in the Sustainability Policy. The future we envisage is rich in diversity, based on mutual respect and enhancement, and a time in which everyone can shine in their own way and achieve personal growth by responding to customer and societal needs. We urge each team unit to adopt new initiatives in their daily business activities with an awareness of their social significance—that is, the value we provide to society. We are also pursuing co-creation with customers and partners from diverse industries to resolve social issues, and we hope to further encourage pro bono activities that offer valuable experiences. We want more employees to be challenged by new opportunities based on their experience, to apply the knowledge gained to their company work and future projects, to develop their careers at their own initiative while inspiring each other, and to achieve growth while responding to customers and society. I hope that this will eventually lead to business innovation, bold new initiatives, and the promotion of unique approaches and CSV, toward a sustainable future and corporate growth.
Saga

▶

In terms of how the company should promote and utilize pro bono in the future, I recommend that you establish a community of people with pro bono experience. In companies that have been incorporating pro bono work for a long time, groups of participants have spontaneously emerged or formed into a community, where know-how is passed on from senior employees to junior staff. Considering this, I believe companies that take the initiative to create a pro bono community from the beginning will lay fertile ground for promptly spreading pro bono work. While such work has the potential to develop into a new company service, participation shouldn't be mandatory. The ideal workplace provides a motivating environment that encourages employees to freely participate in pro bono work as an official activity.
Positioning Pro Bono Activities as an Axis for Promoting Sustainability
Yamamoto

▶

Taking part in this dialogue has brought back to mind my question about whether pro bono work needs to be done on a personal volunteer basis. As an employee, I'll participate in pro bono activities while determined to do my very best, whether as a volunteer or as part of my job. However, in actual pro bono work, I often feel somewhat constrained by being unable to make the most of my personal position and resources as an employee of NTT Communications, and I've sometimes wondered if it would be better if we volunteered as a company. Plus, since those doing pro bono work are interested in achieving personal growth through these activities, then rather than allowing employees to engage in the same project over an extended period of time, I think it would be better to draw the line after each one-time connection and encourage them to move on to a new challenge when applications open for the next project so they can maintain a fresh perspective.
Yamaguchi

▶

To genuinely promote corporate citizenship, a theme of this dialogue and one of our Priority Activities, it's important that each employee understands the nature of the company's social contribution activities and implements them at their own initiative, and that the activities spread in a natural way. I am grateful to be able to take part in this dialogue as an opportunity to share information on these activities. I also intend to make use of the information that I received today in my own work.
Wada

▶

Before participating in the pro bono project, I had almost no experience in so-called social contribution activities, but I felt truly happy about the fact that I could contribute to society in some way. To be honest, I was rather interested in gaining learning experience through an exchange with those from different areas compared to a social contribution, as my motivation for participating in this project, but as I worked with the 4Hearts team, I was able to look at my own skills objectively, reevaluate what I wanted to do, and discover new perspectives I hadn't been aware of. There really was so much to learn, and I hope these activities will continue to expand.
Saga

▶

Hearing your different perspectives, and about how you feel about the topic, has been illuminating. If we weren't doing this remotely, I would have asked all of you out for a drink right afterward (laughs). As long as we are part of society, every individual, without exception, is affected by at least one social issue. For example, a considerable number of issues are deeply rooted within the aging population. Essentially, while businesses are able to identify and enter markets, markets don't typically exist for NPOs, even when there are needs that must be met. These days, when companies claim to be resolving social issues through their businesses, employees capable of addressing these issues should be considered an asset for the company. I'm not talking about turning all of us into enthusiastic volunteers, but at least one person in each department should be knowledgeable about social issues in a certain field or have experience doing pro bono work. Having the ability to create such an environment and a community that leverages the connections of these individuals could be applied to the solutions business one day. I hope you'll invest effectively and position pro bono activities as a reference point for promoting sustainability to explore the essential value of your business.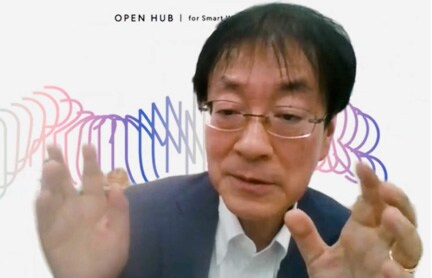 Ando

▶

Thank you very much for sharing your valuable and stimulating views, suggestions, and experiences from diverse perspectives. Responding to society's needs constitutes one of Our Core Beliefs, and we intend to resolve social issues through co-creation with our customers, partners, and others. Although our efforts toward the pro bono program have only just begun, we hope to develop better opportunities and initiatives through trial and error and ongoing improvement. We would be grateful if you could continue to assist us in different ways. Thank you very much for your time today.
Founder and President, Service Grant
Ikuma Saga
Graduated from the University of Tokyo, Faculty of Liberal Arts. After working as a researcher at a think tank, launched Service Grant Japan in 2005 as a pioneer in the area of pro bono work in Japan. Upon its incorporation as an NPO in 2009, became a president. Has been offering support in strengthening the foundation of NPOs and community organizations by coordinating pro bono social contribution activities that draw from the experiences and skills of businesspersons and other professionals. Developing various models of pro bono activities in collaboration with corporations, governments, foundations, research institutions, and other organizations. Currently based in Tokyo and the Kansai region, Service Grant Japan has more than 7,800 registered pro bono members and has managed a cumulative total of over 1,200 pro bono projects. Mr. Saga is also promoting the development of GRANT, an online social participation platform that facilitates human resources matching for pro bono and other projects. He is the author of Pro Bono: New Ways to Contribute to Society, New Ways to Work (Keiso Shobo, 2011) and other books.