Dialogue 2020
The NTT Communications Group is creating opportunities to conduct discussions with various stakeholders, with the view to engaging in a dialogue that facilitates closer communication.
Please click here for the dialogue back number

Navigating through Uncertainty into a Future Based on Sustainability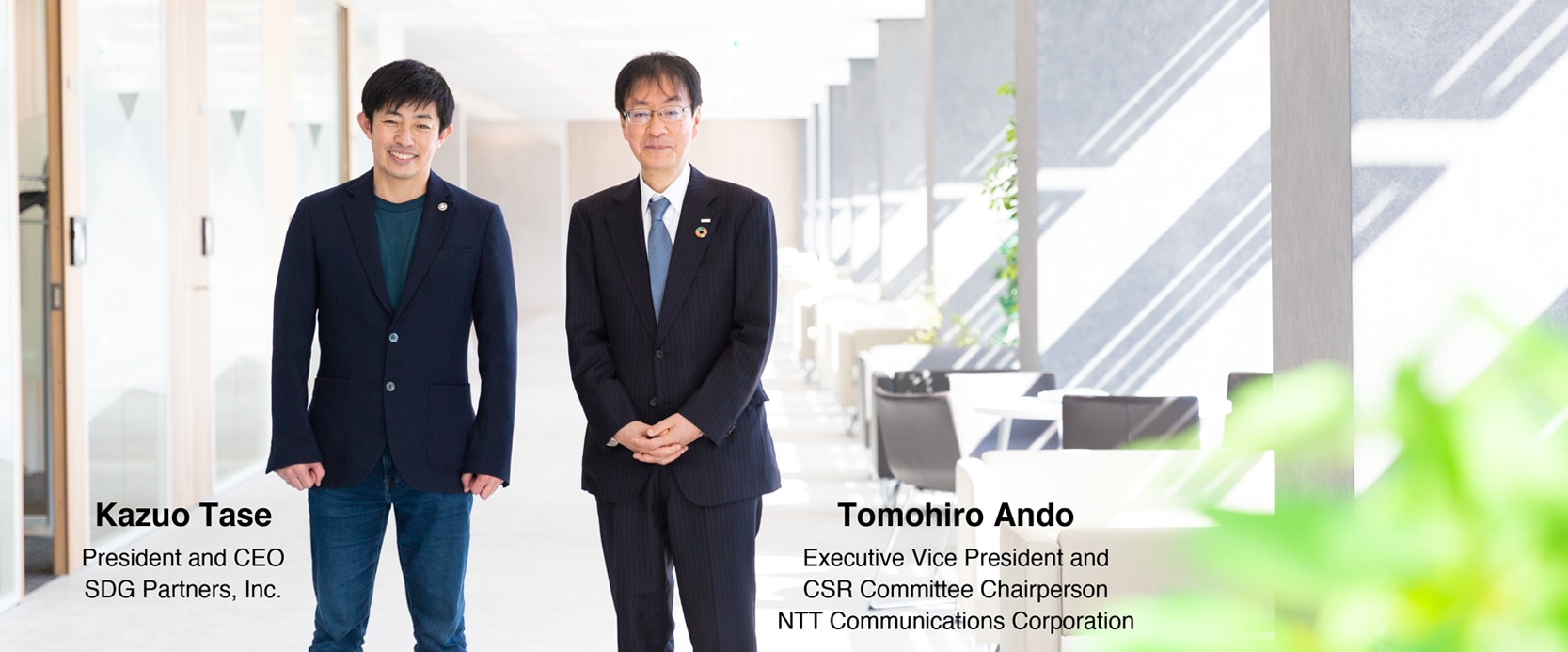 The ongoing COVID-19 pandemic has afforded an opportunity for the NTT Communications Group to reconsider its vision and role in society as a leading ICT company. How should we harness the power of ICT to navigate through current uncertainties into the future? We sought to explore the challenges and outlook regarding the sustainability goals of NTT Communications by convening a dialogue with Kazuo Tase, President and CEO of SDG Partners, Inc.
Actively Addressing Social Issues through Business Activities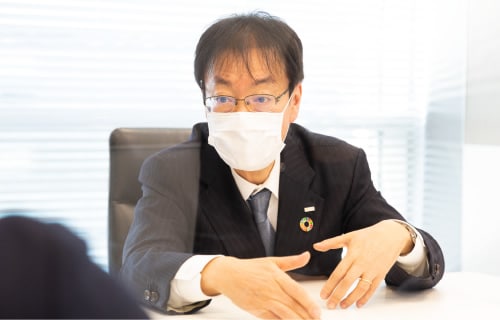 Ando

▶

NTT Communications celebrated its 20th anniversary in July 2019. Recognizing this milestone as our second founding, we sought to clarify how we should fulfill our social responsibility and identify what we need to do in the next two decades. We encouraged all employees to submit their opinions and spent about a year setting up the new Our Mission, Core Beliefs, and Tagline. To bolster this effort, we also reexamined our Fundamental CSR Policy, Priority Areas, and CSR Priority Activities (Materiality), and are currently conducting a fundamental review in light of global trends, including developments in the SDG and ESG aspects of business as well as recent changes in the social environment.
Telecommunications is a rapidly evolving sector in which we must constantly adapt. Over the past 20 years, the concept of CSR has become firmly established in the Group, and the idea of creating shared value (CSV), in the sense of resolving social issues through ICT, is taking root. We must, however, further raise awareness and develop concrete initiatives to extend the Group's CSR activities, in the context of the global society, as our full commitment to solve social issues. I feel this is at the center of our challenges and issues.
Tase

▶

I understand that NTT Communications began pursuing excellent initiatives early on, such as the materiality analysis conducted in 2011. It is currently reviewing its Groupwide CSR policies, including its materiality, for the first time in five years, which is an extremely meaningful exercise in terms of both timing and time span.
The concept of CSR was originally developed in the 1990s, driven by a strong desire to make amends for past corporate behavior that had negatively impacted society by prioritizing economic efficiency, and then over time it expanded with a more robust focus on corporate sustainability. While even Western countries continue to refer to CSR, the concept of sustainability has become deeply rooted worldwide since the United Nations proposed the SDGs in 2015. The SDGs clearly express the message that we cannot harm our future only to satisfy immediate needs, and they have established broad acknowledgement of corporate sustainability as a concept with a more comprehensive connotation than formerly associated with CSR.
Meanwhile, materiality signifies the priority issues of a company as well as areas of interest to stakeholders, namely investors, which are also relevant to the organization. Companies identify and disclose their materiality, however its definition has varied to some degree, and the U.S.
Sustainability Accounting Standards Board (SASB), guiding rules on disclosing information related to ESG investment, has proposed disclosure based on a common standard for each industry, for which materiality would be independently and automatically determined.
Moreover, focus has recently shifted to disclosure emphasizing chronology, which has led to vigorous discussion. Major examples include double materiality, which recognizes financial and non-financial aspects, and dynamic materiality, which allows for necessary revisions to be made in response to social change. For example, while many companies have been promoting sustainability by emphasizing decarbonization, more attention will likely be drawn to diversity over the coming years. This is because failure to decarbonize will lead to a loss of diversity and ultimately spell trouble for humankind. The trend in materiality has shifted to exploring deeper layers of social issues, with the ever-present possibility that disclosure of ESG information may continue to evolve in line with changes in society.
Ando

▶

The idea of preventing negative impacts on the environment and society for the sake of sustainability in response to ESG expectations by the general public is a very narrow sense of CSR today. With respect to the NTT Communications Group, we are expected to actively address social issues through ICT beyond fulfilling a narrow understanding of CSR. And promoting the narrative of creating new value, which could be described as CSR in the wider sense, will become even more important and necessary in the future for the global environment and society as a whole. As for the relevance between the terms "sustainability" and "CSR" in the Group, I feel that if we used "sustainability" in the wider sense of CSR, it would become familiar instantly.
Tase

▶

Exploring this a little deeper, there has recently been a conscious and rapid shift in capitalist societies toward establishing the rules for creating a world where companies will not survive unless they achieve a balance between managing for profit and having a positive impact on society. Under such a framework, profit could not be generated without positively contributing to society and the environment, referred to as the "great reset" or "sustainability transformation." This is a complex issue that companies can hardly solve by fulfilling a narrow sense of their CSR, and achieving this balance would require a serious effort.
Ando

▶

Thank you for your valuable insights. At NTT Communications, I think we share a sense of urgency that sustainable growth will not be possible unless we unrelentingly strive to impact society in a positive way through our business activities. We will clearly incorporate these ideas as we work toward launching our new CSR management structure.
Promoting "Re-connect X" with an Eye on the Post-Pandemic World
Tase

▶

The corporate response to the ongoing COVID-19 pandemic has been offering an important turning point in scrutinizing the significance of corporate sustainability. What is your understanding of this unprecedented situation at NTT Communications?
Ando

▶

The world is experiencing unprecedented social change triggered by the pandemic. In adapting to the new normal, consumers, businesses, and society are embracing fundamentally different world views and values. In a sense we could say that humankind is being forced to experience in advance the kind of change necessary for coexisting with nature while creating a more sustainable and better world and a more rewarding lifestyle on this planet. The ongoing experiment in a remotely connected, distributed society may play an important role in addressing social challenges such as global warming, environmental preservation, and work-life balance. Even after COVID-19 subsides, interpersonal communication, workstyles, business, and the nature of companies and society will not be the same. In "Re-connect X," the Group's new business vision as announced in October 2020, we clearly stated our role in leading the way for society to address the very changes brought about by COVID-19. In a dispersed society in which people connect remotely, we sought to redefine the values we had been connecting through telecommunications in the past. We will seek to open the way into the future by "Creating communication methods that afford new possibilities for people and our world," our new corporate mission, and by co-creating with our customers and partners. We believe this is a contribution to sustainability that is unique to NTT Communications.
Tase

▶

The fact that you possess a vision of the company you want to become is commendable and should be expressed to the outside world in the form of an extra-long-term vision, such as "Re-connect X." It is important to avoid vague expressions. Only a clear, extra-long-term vision can guide management in times of crisis and bring similar clarity to the purpose of the Company. When expressed both internally and externally, it can serve as a code of conduct for employees.
The content of your business vision for the post-pandemic world is also extremely significant. When the lights go out, most people go buy lightbulbs. Some, however, might think they can live meaningful lives without a lightbulb. Telework and remote conferences that were forced upon people during this pandemic have also provided a valuable opportunity for reconsidering the desired nature of human society. Knowing about the initiatives of NTT Communications has further convinced me about this.
Let me add that what is crucially lacking in the Japanese government's "Society 5.0" concept of creating a better future by seeking the digital transformation of the entire society is the perspective of inclusivity. Although "Society 5.0" conveys the message that harnessing IoT and AI will achieve greater convenience for the world and happiness for all, the reality is not that simple. In recent years, we have seen growing inequality in the world and Japan. The lack of an inclusive perspective will widen the digital divide, which could further exacerbate socially disparities. I hope NTT Communications will pursue "Re-connect X" from an inclusive perspective.
Ando

▶

The NTT Group aspires to achieve a Smart Society under its medium-term management strategy. The "Smart Customer Experience" is one area NTT Communications is working on as part of the strategy. This initiative is based on the "Re-connect X" business vision, intended to eliminate disparities and discrimination between people with diverse backgrounds by digitizing tasks at customer contact points and "leaving no one behind," which is the central promise of the SDGs. I believe this initiative has something in common with the inclusive perspective you mentioned earlier.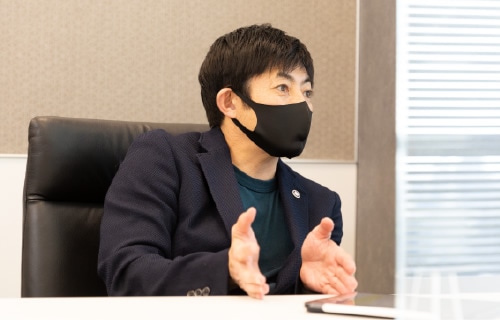 Tase

▶

That sounds wonderful. The challenge is to realize this goal in concrete terms. Some say Japan's position has weakened in recent years. Yet in the OECD's latest Programme for the International Assessment of Adult Competencies (PIAAC), Japanese adults displayed the highest level of proficiency in literacy and numeracy. The Japanese remain as competent as before. But when we examine recent trends in domestic employment, we find that while the numbers of unskilled jobs and skill-intensive jobs have grown, the unemployment rate is highest in the category of jobs requiring medium-level skills. It is presumed that workers in the medium-level skill category, who are inherently competent, have failed to keep up with DX and ended up doing low-paying unskilled work. This has caused a nationwide decline in productivity. "Re-connect X" is an extremely important initiative in the sense that it can offer workers who fell off the DX wave the opportunity of a "consolation match," adding renewed vigor to the labor market and the economy.
Starting a Chain Reaction for SDGs with the Power of ICT
Ando

▶

The NTT Group declared its support for the SDGs in 2016, and as a member of the Group, NTT Communications contributes to achieving these goals through the implementation of the CSR Priority Activities, to which the goals are linked. In fiscal 2020, we clarified the inherently positive impact of our activities on society and the environment across the entire value chain, anywhere we could reduce our negative impact, and clarified the direction of our initiatives for resolving social issues with respect to the SDGs. We are currently considering targets for the NTT Communications Group for achieving the SDGs. We would appreciate your advice on enhancing awareness of the SDGs and disseminating our initiatives throughout the Group so that we can accelerate the pace of our initiatives for achieving the goals.
Tase

▶

A chain reaction is triggered by the SDGs. While setting SDG targets is not a bad idea, I would encourage proceeding by analyzing and predicting how the output and outcome of your initiatives will ultimately impact your employees, customers, and all of society. When applying the SDGs to management, it is important to put into practice initiatives that adopt a logical approach to the causal relationship behind the social impact.
For instance, D&I (diversity and inclusion) is a key concept that is said to describe the very essence of innovation and that many companies have identified as a materiality. However, from the standpoint of evaluating companies on sustainability, the main emphasis is placed on the firm commitment of executive management to promoting D&I. As a key concept, D&I is coupled with psychological safety, which can also be expressed as a corporate culture that accepts wildly creative ideas. That is what "diversity as a source of innovation" means, and a positive social impact can only be generated by promoting initiatives with an understanding of the causal relationship.
The outside-in approach taken for the SDGs is crucial in seeking solutions for social issues. We will never reach that goal, however, unless we thoroughly understand the actions we can take to realize an ideal society. Companies today are required to act with an unshakable conviction to invest valuable management resources to hasten the realization of the ideal future while also making maximum use of their accumulated inside-out approach. I hope NTT Communications will be able to achieve major transformations through "Re-connect X" by capitalizing on its abundant track record and know-how while keeping a firm eye on sustainability.
Furthermore, in order to instill awareness of SDG promotion within the Company, it is important for those in leadership positions such as yourself to convey directly to employees their strong personal aspiration and enthusiasm for solving social issues that have been incorporated into newly determined policies and materiality.
For example, when members of top management are displayed right next to employees during remote meetings, their passionate expressions of commitment can close the gap between them and other employees. While it may not seem so important at first, employees will become more united behind the effort with each successive opportunity and point of contact, ultimately accelerating progress on SDG initiatives.
Ando

▶

Co-creation with partners provides a critical perspective for promoting "Re-connect X." Co-creation has the potential of exponentially expanding our strengths and qualities toward the goal of building a sustainable future, and ICT will spread into ever-widening areas. We will also work with customers and partners in every corner of the Earth, leading to considerably higher expectations and responsibilities. To meet these expectations, I will engage in a series of dialogues with employees to "go the distance" in pursuit of the endless possibilities of ICT. Thank you very much for sharing your highly valuable insights and advice from diverse perspectives.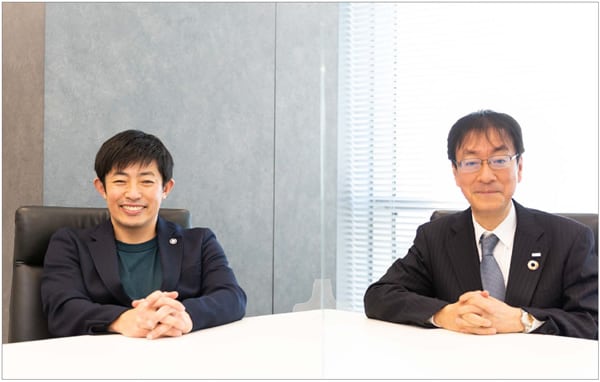 Kazuo Tase
President and CEO, SDG Partners, Inc.
Born in Fukuoka City, Fukuoka Prefecture in 1967. Graduated from the Department of Nuclear Engineering, Faculty of Engineering, and studied at the faculty of Economics at the University of Tokyo. Visiting researcher at the School of Law, New York University. Passed the foreign service exam in 1991, and joined the Ministry of Foreign Affairs in 1992. Served in the United Nations Policy Division, Human Rights and Refugee Division, Second Africa Division, United Nations Administration Division, and as First Secretary at Japan's Permanent Mission to the United Nations. Worked for two years, starting in 2001, at the Secretariat of the Commission on Human Security as assistant for Ms. Sadako Ogata. Founded SDG Partners, Inc. in 2017 and led companies by supporting the formulation and implementation of all of the sustainability guidelines; SDGs-related initiatives; design of integrated reports; ESG initiatives and the related disclosure; and planning and implementation of SDG strategies for local governments and small and medium-sized enterprises.