Software-Defined Network Service
Implementation with SD-NS
Microsoft Office 365
Networking partner program
Internet connection trough closed network with emphasizing on security and stability.For effective distributing large amount of communication traffic, break out only traffic for "Office 365" to internet.
You may utilize Microsoft Office365 with stable and comfortable.
Utilization of SD-NS enable to connect internet with distributing only specific traffic without go trough internet gateway on site. Due to the implementation of SD-NS is using by overlay network with SDN*, flexible construction and management of internet circuit and VPN circuit are enabled without newly circuit deployment.
NTT Com's solution of SD-NS have been certificated by Microsoft as "Microsoft Office 365 network partner" due to the it's value of past successful provisioning and network optimization in case of utilization of "Office 365".
What is SDN ?
Abbreviated name of Software-Defined Networking.Genelic Name of technology that enable to dynamically change the networking archetechture, conposition, and settings with single software on centrized control for each of communication devices that conpose of computer network.
Optimi zation of Connection for Cloud service
Solution Technology
01
Internet
break out
Solution Technology
02
Retrieving
automatically of
Office365 information
Solution Technology
03
Visualization of
Application traffic
See more detail
To be more comfortable network!
CLOUD FIRST NETWORK PACK
All in one for necessity features for utilizing cloud include Office365.
Easy and Quick for use!


Internet VPN
Series of OCN Optic IPoE
Internet VPN

Closed Network
Connection
Arcstar Universal One

SD-WAN
SD-NS

Cloud Security
Cloud App Security

Cloud UTM
vUTM

Cloud Proxy
IWSaaS Type

Endpoint
Protection
VBBS Type

Security Support
Security Support desk
This all in one package will solve various network issue!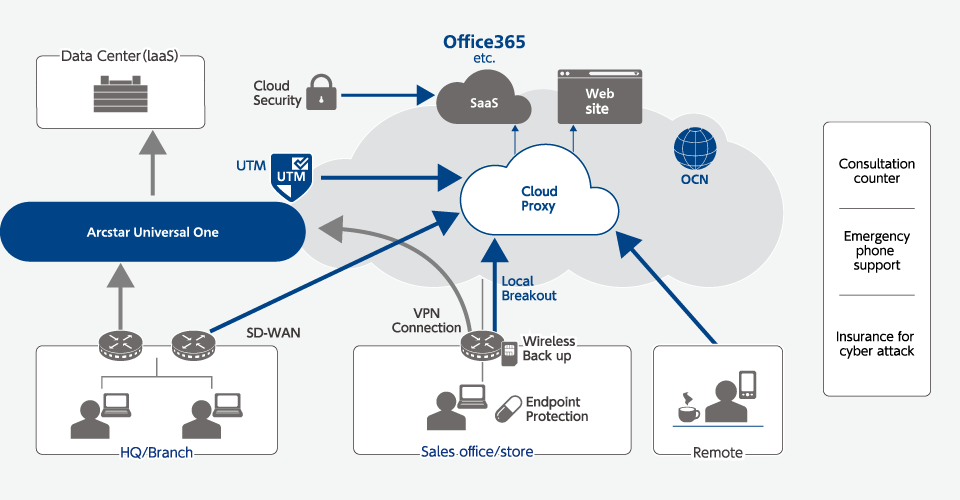 Always monitoring of internal data on cloud.
Exchanging data for client with security.

Cloud type security enable to relief more operational burden. This can be addressed for last updated cyber-attack.

With the local breakout, it makes to be comfortable the usage environment of Office 365.

One-circuit access make implement VPN communication and internet communication.

Total support of security from log collection to pursue the cause.
CONTACT OUR EXPERTS