Global Management One
Optional Service
PC Management
A unified management of the PC's configuration information globally.

SECURITY
Prevent the virus infection and cause of security hole by the automatic delivery of patches and software.

GOVERNANCE
Prevent information leaks and strengthen governance by restricting USBs/ external devices and prohibit illegal software installation.

IDENTIFICATION
Monthly reports made by collecting and accumulating PC information, enabling a quick identification of a defective device.
Supporting structure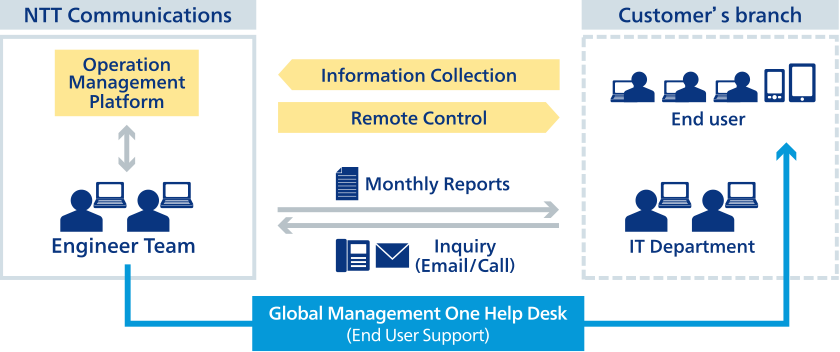 Having Troubles?
Difficulty with managing PC devices around the world
・Unaware of the number of PC in each branches
・Can not manage software information
・Possibility of the use of old version software
Not enough countermeasures for information leaks
・A risk of information leaks and virus infection caused by the use of USB memories
Can not properly apply patches of OS
・Can not apply the daily released patches to all PC devices
・Can not apply the anti-virus definition files
Difficulty with PC environmental maintenance
・Hard to deliver software to all PCs in each branches
・Lack of IT managers in all locations


How PC Management can help
Reporting
We collect and report PC's configuration information from all over the world. This enables a unified management of PC operational state of customer's entire environment.
Device control
Restrict the use of USB memories and prohibit software installation that is specified by customer.
Patch delivery
Automatic Windows update and patch delivery for virus definition files.
This can prevent the occurrence of security hole.
Software delivery
Automatic delivery of software specified by customer.
Optimize the procedure of PC environmental maintenance.
PC Management is an optional service of Global Management One Help Desk. Contract with Global Management One Help Desk is necessary in order to use PC Management service.