What is it a GMOne Partner Program?
The Global Management One (GMOne) Partner Program is a key part of our sales force and our primary route to the market. This is a scheme providing business Partners with knowledge, benefits and incentives in return for selling managed services to enterprise Customers. The Program is an innovative NTT Communications business approach, allowing Partners for the first time to sell NTT Communications managed services to their customers.
GMOne Partner Program is a multi-tier, progression-based program offering Partners outstanding financial benefits while arming Partners with a vast array of free and unlimited support tools, from special pricing and technical training to marketing collateral and demand generation tools.
About GMOne managed services
Global Management One is a one-stop, seamless IT managed services for your entire IT ecosystem. Benefiting from our global presence, GMOne can provide remote infrastructure management (RIM) service and service desk functionality worldwide. The services are available from an integrated platform that extends to IT systems in cloud environments, data centers and customer's premises.
GMOne service covers all IT layers, starting from infrastructure through business application up to business service layer. It provides managed services for WAN and LAN management, cloud infrastructure, databases, middleware, core business applications and end-user compute services. Our portfolio of services is based on standardized building blocks and industry best practices for IT service management (ITIL). Based on customer's requirements, the offering may range from out-tasking services to fully out-sourced one. For more information click HERE.
Who is it for?
With GMOne Partner Program, we want to meet today's Partners needs, helping them to be ready for the future with simplicity, predictability and profitability throughout.
Program is dedicated to IT organizations that understand customer's IT environments and business challenges and want to strengthen their position through helping those customers and offering them managed services.
We welcome all type of partners to work with us on the local and global scale.
Whether you are a reseller, system integrator, service provider or technology partner, through our partner program we offer you high-impact solutions and sales benefits that open the door to new markets and customers.
Join us today!
What are the benefits?
At NTT Communications we understand how important and difficult is our Partners' business and this is why through Global Management One Partner Program we would like to reward our Partners for their commitment and work with carefully designed benefits. The more you work with us, the more benefits you can get!
GMOne Academy

12-week training program
3 technical certification levels
Sales certification
Online training support

Marketing Support

Market Analysis
Sales planning and tools
Lead generation tools
Access to MDF funds

Team Power

Pre-sales support
Competitive pricing
Multilingual assistance
Deal registration protection
GMOne Program Structure
To ensure simplicity and transparency for the Partners, GMOne Partner Program uses a common structure that fits all types of business.
Based on the business model, Partners can find the best Path and Tier for them to enroll in. Each Path and Tier has a different level of commitment,
investment in GMOne and the return on that investment. Partners gain benefits based on the tier they are in.
The program is designed so that Partners understand what NTT Communications expects from its Partners and what benefits they can gain from the
cooperation.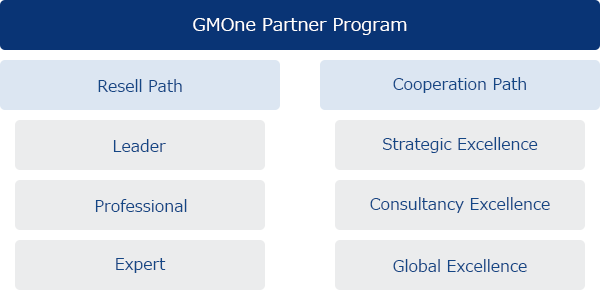 To learn more about each Path and Tier as well as about the requirements and benefits, check out our GMOne Partner Program Guide or get in touch with us!
Apply Now
NTT Communications is growing as well as managed service market. Come and join us in this journey.
Take the first step to gain eligibility for broader opportunities and profitability by becoming a Global Management One Partner.
Be the first in your market to offer Global Management One managed services.
Resources