Partner with global Leader
At NTT Communications we recognize the importance of partnership and through carefully designed partner programs we want to leverage our global position and experience to help our Partners grow their business together with us.
To successfully deliver our advanced technologies to enterprise customers and ensure the proficiency of our Partners, we provide extensive resources, training and support through the partner programs.
As we strongly believe in a teamwork, we want to closely work with our Partners and deliver the best-in-class solutions and services.
Together, we can do more. Become a member of our global network today!
We are where customers need us.
How can we help you grow?
Work with a proven technologyPartner with NTT, an award winning provider with a cutting-edge technologies.
Expand your potential and enter new marketsBe the first one on the market to offer GMOne services.
Leverage the
NTT BrandEarn customers' trust with our expertise and reputation.
Grow your revenue and sales profitsLeverage our enterprise accounts to boost your bottom line.
Enhance the power of marketingGrow your business by co-partnered marketing activities.
Expand your knowledge through partner trainingLearn about new technologies, skill up your sales skills and win the market with us!
Partner eco-system world
Partnering with NTT Communications will give you an access to a number of industry-leading technologies to add them your portfolio. We welcome all type of partners to work with us on the local and global scale.
Whether you are a reseller, service provider or technology Partner, through our partner programs we offer you high-impact solutions and sales benefits that open the door to new markets and customers.
Join us today!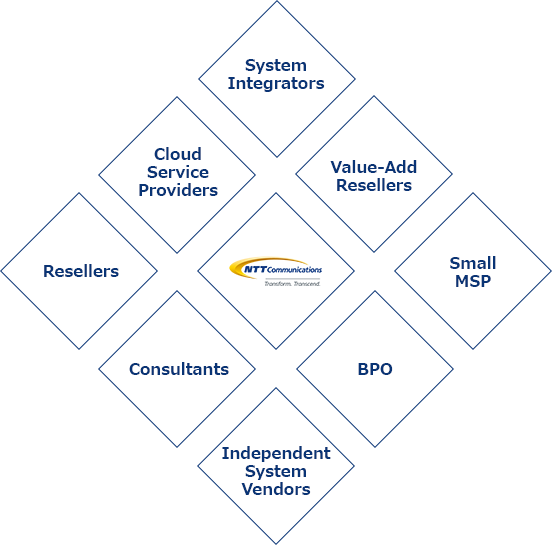 Choose the program that fits your business the best
We understand that Partners have different business needs, they work with different customer, and they look for different technologies. This is why we have created programs that provide our Partners with everything they need to be successful in the field, including a comprehensive sales and marketing support, extensive Partner training and attractive financial incentives.
Progress from carefully designed Programs and get the most of our partnership!