An Important Perspective: Stakeholders
We define "stakeholders" as all the entities that have relations of any kind with the NTT Communications Group. The term includes not only our customers, business partners and shareholders, but also competitors that our business activities influence, society as a whole and individual employees. Understanding the perspective and earning the trust of our stakeholders are essential to enabling the Group to continue to profit and grow. We shall always be aware of our ties with various stakeholders as we bridge their present and future potential.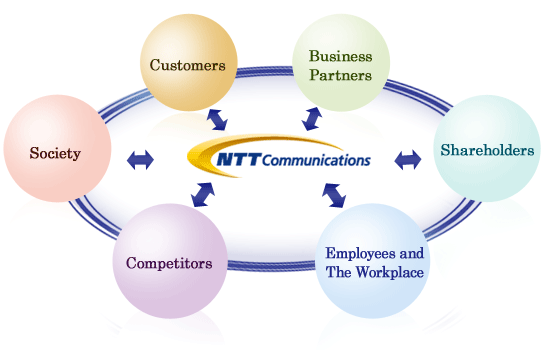 For Customers
From a customer-first perspective, we will provide solutions and services that offer true value.
We will act responsibly and with pride as a member of the NTT Communications Group in responding quickly, flexibly, and with integrity to our customers.
We will establish enduring relationships of trust with our customers.
For Business Partners
We will maximize our cooperation with partner in order to offer the best possible value for our customers.
For Society
By providing more secure and innovative Internet services, we will contribute to the sound growth of the Internet society.
社As part of our strong connection with society, we will contribute to global environmental protection.
We will understand and respect the cultures and customs of different nations.
For Competitors
We will abide by rules and compete fairly.
For Employees and the Workplace
We will recognize individuality and diversity and mutually protect human rights.
We will trust and respect each other and create an environment that is conductive to personal development and fulfillment of our goals.
As an ICT company, we will make a maximum effort to protect security.
For Shareholders
We will disclose information concerning our business performance in a fair, accurate, and timely manner.
We will achieve sustainable growth as a company and seek higher benefits for our shareholders.