Fundamental CSR Policy
As a partner that links the present to the future, the NTT Communications Group contributes to the realization of a safe, comfortable and abundant society by working to solve social issues and create new value for society on a global scale through ICT.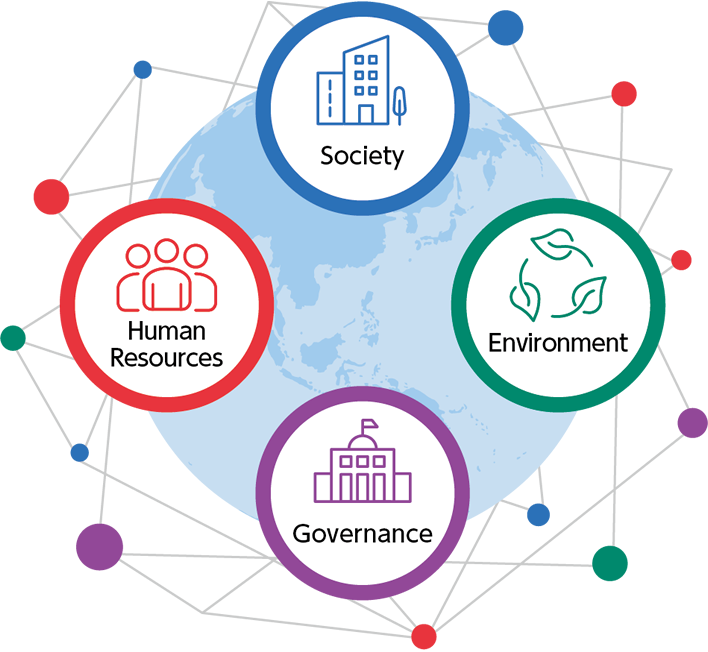 Contributions to Society
We shall contribute to the resolution of social issues in Japan and overseas through the development and provision of innovative ICT, while providing highly reliable services for the sustained development of society.
As a group of companies that provides key infrastructure that supports society and protects our lifestyles, we shall provide secure environments for communications that are fortified against cybersecurity threats and resilient to natural disasters.

Contributions to the Global Environment
We shall endeavor to solve environmental problems on a global scale through initiatives to use ICT to reduce the impact of society on the environment, while lightening the environmental burden of our business activities as a Group.

Respect for Human Resources
We shall create work environments that invigorate each and every employee, while respecting the diversity of our employees and other stakeholders. Moreover, we shall contribute to the creation of an abundant society by changing ourselves for the better and seeking to break free from our own limitations.

Continuous Strengthening of Corporate Gevernance
While valuing opportunities to communicate with all our stakeholders, we shall contribute to the sustainable development of society by engaging in business with high ethical standards and respect for human rights.
NTT Group CSR Charter
Our Commitment
The NTT Group delivers the highest quality ICT solutions as a "Value Partner" for customers and contributes to the creation of a prosperous and sustainable society with vibrant communication.
Our CSR Goals
●Enrich Social Communication
Our innovative ICT experties enhances societal connectivity and convenience while providing a communications environment for addressing local and international challenges to sustainable community development.
●Protect the Global Environment
We reduce environmental impact throughout our business, apply ICT to alleviate the environmental load of society, and actively engage in resolving worldwide environmental issues.
●Ensure Reliable Communications
We address social and ethical concerns as an infrastructure enterprise that supports society while protecting livelihoods by securing online information in a robust communications environment that can withstand natural disasters and cyber-attacks.
●Unite the Energies of Team NTT
Team NTT and its partners maintain the highest ethical standards and respect for human rights in business; value diversity and personal growth in the workplace; and contribute to building vibrant local communities.
<Sustainable Development Goals:SDGs>
At the United Nations Sustainable Development Summit in September 2015, the Sustainable Development Goals (SDGs) were adopted by unanimous decision of the 193-member nations. The SDGs are a set of 17 goals and 169 targets to be resolved on a global scale by 2030. Governments around the world are in agreement on these goals. Companies in all industries are positioned as important partners in attaining the SDGs and are being called on to engage in proactive activities to address the SDGs. The NTT Communications Group supports the aims set out under the Sustainable Development Goals and will contribute to the development of a sustainable society through its business activities.