CASES
Rugby Team Takes on the Challenge of Creating New Value to Fulfill its Mission of Contributing to Society

The value of a sports team is not decided solely by its performance in a game. The Shining Arcs rugby team, managed by NTT Communications, is working toward realizing a sustainable world by engaging in activities that meet public expectations, both on and off the pitch.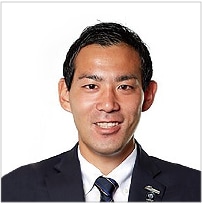 Tasuku Kawahara
Rugby Staff, Human Resources

Enhancing Team Value by Focusing on Activities Off the Pitch
The Shining Arcs has upheld its contribution to society as one of its missions since its founding. Particularly in recent years, the team has focused on activities off the pitch with a view to adding to the two "Vs" of "Victory"and "Value." In 2019, it became the first rugby team to declare its full commitment to the SDGs and has been planning and practicing unique activities by incorporating ideas from players. For example, in the TABLE FOR TWO Project, we calculate the calories burnt by players and estimate those burnt by Shining Arcs fans who come to cheer for the team during each game, and we donate the equivalent in monetary value to support the agricultural industry in developing countries. Additionally, we encourage the cooperation of supporters through social media posts. The Shining Arcs also participate in the deleteC Project, which aims to make cancer a curable disease, through a collaborative effort while educating the public about cancer treatments and donating the revenue from the sale of goods to medical research institutions. What is more, we engage in joint initiatives with other organizations. In the popular JICA Educational Program, for example, our non-Japanese players offer lectures on their culture, customs, and social issues to the general public. We have a similar partnership with JTB Corporation. We cooperate in their JTB Sports Tourism Program, a career education initiative through which we invite students on graduation trips to the club house, where they participate in workshops led by players and staff.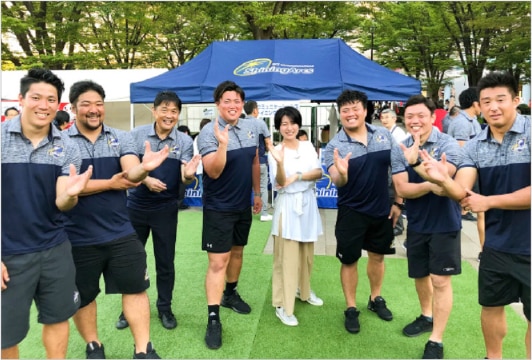 Players taking part in Urayasu Rugby Festa 2019 at the plaza
in front of the Japan Railways Shin-Urayasu Station.
Becoming a Team the Local Community Loves and Depends on
Apart from these efforts, the Shining Arcs engage in social activities that are uniquely fitting for a sports team. These include paying school visits and participating in events 10 to 20 times a year, offering opportunities inside and outdoors for physical fitness while the players act as though they are trainers and distribute videos online pertaining to exercises the players have done during the COVID-19 pandemic. We also organize new projects to expand the scope of activities across the entire top league. The team's activities are shared via a dedicated page on the corporate website and are gradually winning public recognition.
We intend to pursue these activities steadfastly in order to win an even greater place in the hearts of local citizens in our home base of Urayasu City, Chiba Prefecture, as a group to be depended upon.
NTT Communications'Actions toward the SDGs
The NTT Communications Group contributes to achieving the SDGs by making extensive use of ICT to provide innovative services while continuously taking on challenges with a firm eye on what lies ahead.
NO POVERTY

ZERO HUNGER

We assist the agricultural industries of developing countries with the help of our supporters by calculating the amount of donations based on players' performance and the number of spectators. We will work hand in hand with the local community to help eradicate poverty and hunger from the world.
GOOD HEALTH AND WELL-BEING

The team contributes to medical research by raising awareness and seeking donations for making cancer a curable disease through a collaborative effort. In addition, players serve as trainers and lecturers to promote various physical fitness programs targeting employees and the general public.

QUALITY EDUCATION

We actively organize programs in which our non-Japanese team members speak as lecturers. These offer a unique opportunity for participants to learn about the international community and state of global sports through rugby, which is only possible for an international-level sports team.

Contributing to the SDGs through Activities off the Pitch
PARTNERSHIPS FOR THE GOALS

We are striving to realize a sustainable society by actively working with individuals and organizations outside the Company, such as by supporting developing countries and medical research institutions by mobilizing fans and pursuing collaborative projects with JICA and other companies.