CASES
Supporting Efficient and Effective Corporate Governance with Auditing Solutions Based on Digital Technology

Continually strengthening corporate governance is essential for maintaining stable business activities and enhancing corporate value. This is why we practice efficient and effective risk management through our unique digital CAATs.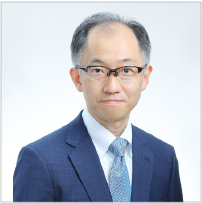 Keiichi Nakamori
Internal Audit Dept., Legal and Internal Audit Dept.
Raising the Quality of Internal Audits with a Pioneering Approach
Conventionally, internal audits, which are closely associated with sound corporate governance, have mostly relied on the expertise and discretion of auditors. To break away from this dependence on their skills as a DX Enabler®, we are committed to transforming our auditing in order to adopt a technology-driven approach for raising the quality of internal audits and minimizing management risk.
The turning point came in 2018, when we received an external evaluation by the IIA*1, which provides a global standard for internal auditing. They revealed our new need for shifting to risk-based auditing, so we took the opportunity to revise the fundamentals of our auditing method, from conducting comprehensive cyclic auditing of all organizations based on uniform audit criteria to a method based on risk analysis with a focus on evaluating the effectiveness of high-risk processes. One method involves applying computer assisted audit techniques (CAATs), which uses big data and IT to implement a combined analysis of massive quantities of operational data.
Creating a Safe and Sound Workplace Environment
The most significant change associated with CAATs has been the exponential increase in the number of investigations—by approximately a thousand times due to the use of big data extracted from mission critical systems.
By shifting from analyzing limited samples to total information, we reduced the risks of unaudited information. This assures fairness, transparency, and objectivity, and we also struck a balance between risk control enhancements and operational efficiency improvements. What is more, visualizing the analysis results using BI*2 tools has led to greater awareness of expense calculations and work management as well as restraining misconduct. It has also allowed us to make operational improvements at the worksite before major issues develop, thus effectively preventing risks from materializing.
The establishment of risk monitoring based on data analysis marks a significant step toward creating a safe and sound workplace environment for employees. Looking ahead, we will continue to respond to changing risks in the "new normal,"support the continuation of stable, long-term business activities, and further strengthen our corporate value.
◆

Revised Auditing Functions by NTT Communications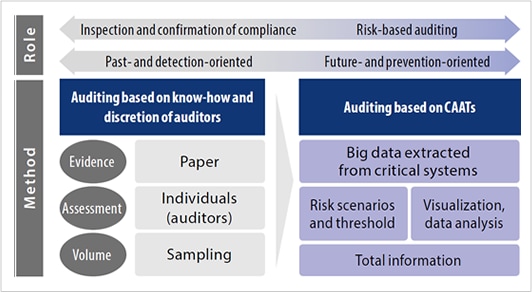 *1 The Institute of Internal Auditors, a U.S.-based organization specializing in internal audits.
*2 Business Intelligence
NTT Communications'Actions toward the SDGs
The NTT Communications Group contributes to achieving the SDGs by making extensive use of ICT to provide innovative services while continuously taking on challenges with a firm eye on what lies ahead.
Contribution to SDGs through the Use of Digital Technology
Industry, innovation, and infrastructure

Simplified processes involved in cashless payments and advances in remote work have made it difficult to confirm the appropriateness of expense calculations. By using CAATs to analyze expense calculations, we can prevent latent risks from materializing and support sound operational reforms.

Good health and well-being

We can identify and prevent risks of overwork by using an entrance and exit system to effectively manage work patterns by matching entrance and exit logs with attendance sheets and visualizing the results. This will also help us maintain employee health and consequently improve labor productivity.

Decent work and economic growth

By adopting a method based on objective data, we can prevent arbitrary decisions, preconceptions, and illegal behavior from entering the internal audit process, thereby maintaining fairness and transparency. This will also lead to realizing a safe and secure workplace environment while boosting employee morale.