Collaborating with an NPO on Global CSR Activity
Addressing Educational


Challenges in the Philippines

As part of its initiative to help resolve international social problems through business, NTT Communications kicked off activities in June 2018 for addressing educational challenges in the Philippines. Although the nation has shown remarkable economic growth, poverty remains a serious issue with roots in social inequality. Therefore, there is a pressing need to address educational issues to end this vicious cycle of poverty.
Challenges in the Open High School Program of Cagayan de Oro City, the Philippines
Students

1Low rates of advancement (44%) and graduation (63%)

2Difficulty maintaining motivation to continue studies

・Long distance between home and school
・Daily needs prevent the continuation of schooling
・Low basic academic skills hamper self-driven learning
・Unclear prospects after graduation
Parents

1Most parents do not fully understand the value of education

・Do not approve of attending school on weekends

2Most households cannot pay school expenses

・Unclear prospects after graduation
Local Community

1Underdeveloped Internet infrastructure in outlying regions

・Piecemeal progress in use of Wi-Fi, smartphones, and social media

2Frequent typhoons and other natural disasters
Teachers

1Shortage of OHSP instructional staff

2Under-performing operations

・Excessive workloads
・Insufficient follow-up for individual students

3Lack of motivation

4Shortage of educational materials
University Students

1Few opportunities to apply their education

2Difficulty finding a good job after graduation
Local Companies

1Need to secure competent personnel

2Lack of information about the Philippine market
Applying ICT to Solve Educational Issues
The Republic of the Philippines is a nation in Southeast Asia comprising more than 7,000 islands. It has maintained relatively high economic growth among the major ASEAN countries, supported by its steady population growth and robust consumption. At the same time, it has been noted that the country must address the need to educate future human resources if it is to sustain its growth. In this context, the government launched major reforms of its educational system in 2017, including a transition from Asia's last remaining 10-year academic system to the 12-year system that is the global standard. One of these efforts is the Open High School Program (OHSP), which provides weekend schooling for students who are unable to attend high school or have been forced by circumstances to give up their education. The program helps them to graduate from high school. However, it is primarily supported by teachers without pay and faces difficulties securing instructional staff and teaching materials.
Collaborating with an NPO that Operates in Southeast Asia
Meanwhile, NTT Communications has been aspiring to help resolve global social issues as a company broadly pursuing business in the global community. Since around April 2016, we have been exploring ways to act on our belief that we can apply our strengths in ICT to contribute to society.

Practical issues, however, have made it difficult for our employees to focus on overseas social problems steadfastly. Therefore, we sought to collaborate with a partner who could provide ample experience and knowledge in undertaking social contribution activities overseas and was also aligned with the principles and polices of our initiative. After meeting with about 40 organizations, we decided to collaborate with e-Education, an NPO that shared similar policies. e-Education has been actively addressing educational issues in 14 countries around the world including Southeast Asia.
In June 2018, we launched a project to resolve educational issues by ICT in the Philippines in Cagayan de Oro City, one place where e-Education operates. The Philippines is a nation with which we have developed a favorable relationship through our business. Moreover, it is pursuing educational reforms as a country with the fastest economic growth in Asia.

NTT Communications invited employees to participate in this project. The 32 members selected were then divided into six groups, and each of these worked to come up with ICT solutions that could lead to improving educational outcomes in the Philippines and presented them to the local Department of Education. Also, at this time many hearings with the Department of Education in Cagayan de Oro City were being conducted by our partner, e-Education. And these revealed a shortage of teachers in the city due to the tendency of competent instructors to leave the island. Students, on their part, found it hard to remain motivated, as they were forced by economic and other circumstances to place priority on meeting daily needs or had difficulty traveling long distances to school. Consequently, the issues related to the educational environment proved to be extremely wide-ranging.

The six project groups took local circumstances into account as they developed solutions that paid close attention to daily needs and local community perspectives. Three proposals were ultimately selected in November 2018. Six members representing the three selected groups visited the Department of Education in February 2019 to present their proposals and exchange ideas.
■It shows the 1st activity started in Cagayan de Oro city, Philippines in February, 2019. We report on the interviews we conducted with children and educators, as well as the voices of the members involved in the "Beyond Project".
Giving Concrete Shape to the Proposals
In June 2019, a presentation was made to the city's Department of Education under the theme "Beyond ? Going beyond current issues toward the future," which sought to address specific issues such as classes, time, teaching materials, and distance by offering solutions based on ICT to create learning opportunities (see diagram). The presentation was very well received for its practical content, and a blueprint was drawn up to launch the project quickly by starting small in Cagayan de Oro City, with the expectation of gradually introducing the program to more schools as it demonstrated signs of success.

These efforts concluded the initiative's first phase, and NTT Communications has already added new members to embark on the second phase. With the continued cooperation of e-Education, we plan to conduct feasibility studies and confirm effectiveness to evaluate and revise the model toward a full-scale launch in 2020. While many issues remain, such as developing the Internet infrastructure and creating an environment for motivating teachers, we intend to pursue the next step in close collaboration with the Department of Education, teachers, students, and other stakeholders to enhance our activities in line with local circumstances.

Our initiative for transcending national borders to improve the educational environment in the Philippines cannot be achieved without the willingness of each employee to take on challenges. Through this activity, NTT Communications will seek to expand the possibilities of ICT solutions and further contribute to resolving social issues.
■It contains the presentation to Department of Education, Division of Cagayan de Oro City, in June 2019 and the state of further field study. We report on the efforts of the members and local educators for the Feasibility Study in October 2019, which is the next step.
Specific Issues and Proposed Functions
Issues

Proposed Functions

Value Provided by NTT Communications

Students are prevented from attending school due to housework, fatigue, or having to travel long distances

Online supplementary classes

Enables students to attend OHSP classes without having to travel to school, through distance learning

Students have few opportunities to review and confirm what is learned in class

Online reservation of supplementary classes

Enables students to make a reservation for specific classes at their convenience so they can study what they did not understand

Textbooks are in short supply and preparation of educational materials pose considerable burdens

Digitalization of standard teaching materials

Enables students to study at their own pace by promoting iPad-based learning of standard textbooks; also reduces the burden on teachers

Students are prevented from going to school due to inconvenient or difficult commuting options

Mobile classes
(remote classes)

Provides consistent support for maintaining and improving academic ability by enabling students who live far from schools to receive schooling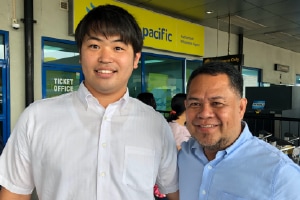 Takeru Sakai
Country Manager
e-Education
Romeo B. Aclo
Project Focal Person
Supervisor/Consultant
Leveraging Technology to Create a Brighter Future for Children
"I can't go to school on weekdays because I work from five in the morning to eight at night. But I really want to study, so I travel an hour each way to attend school just on Saturdays." These are the words of a fifteen-year-old student. I wonder how many of you were unable to go to school during the week because you had to work.
In the Philippines, as many as 20% of children are unable to attend school for one reason or another. The application of technology may enable us to save many if not all of these children. I look forward to creating a future for children by applying the power of technology with NTT Communications, Japan's leading ICT company.