CASES
Applying Deep Learning to Achieve Stability in Waste Power Generation at Incineration Plants

Expectations are rising for the use of ICT to bring about a low-carbon future. As a leading ICT company, we relentlessly strive to provide next-generation solutions one step ahead of the times.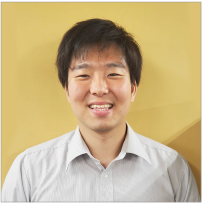 Daiki Okuoka
First Sales Dept., West Japan
Sales Division

Joint Verification Test with Kubota Corporation
The NTT Group has recently been collaborating with companies across wide-ranging industries to develop new solutions based on ICT. In 2016, we partnered with Kubota Corporation and established the Kubota & NTT Group Cooperation Council to create ICT innovations for agriculture and water infrastructure. Stabilizing waste power generation at incineration plants grew out of this collaboration as a promising project for applying deep learning, a core AI technology. This led to collaboration with NTT Communications. Waste power generation is expected to emerge as an alternative source of energy to fossil fuels. It uses heat generated when incinerating combustible waste to produce steam, which turns the turbine. Although low power generation efficiency is currently an issue, once we overcome this, the approach has the potential to support the effective use of waste incineration plants across Japan.
Real-time Prediction of Steam Produced at Waste Incineration Plants
In September 2018, we began a verification test on using deep learning to predict the amount of steam produced at an incineration plant in operation. Increasing power generation efficiency requires controlling the volume of steam, which varies depending on the properties and shape of garbage. We used Node-AI, our proprietary AI-based analytical tool, to process key data narrowed down from about 300 parameters and generate a prediction model for the state of waste combustion one minute in advance. We applied this model to an incineration plant in operation to perform a verification based on time series analysis and causal analysis and were able to construct an infrastructure for consistently predicting the amount of steam, one minute in advance and on a real-time basis.
We will further improve the accuracy of predictions toward the ultimate goal of stabilizing waste power generation at incineration plants without relying on the skills of veteran workers. This is an important challenge for accelerating the achievement of advances and higher efficiency in the creation of renewable energy for the future.
◆

Real-time Prediction Model for the Volume of Steam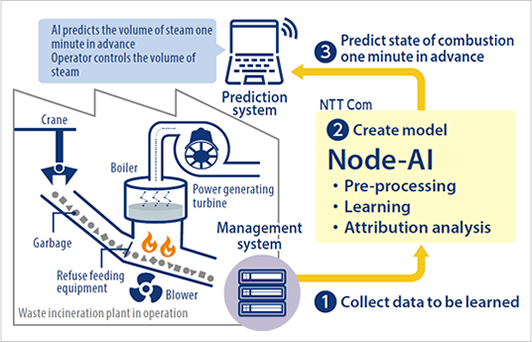 NTT Communications'Actions toward the SDGs
The NTT Communications Group contributes to achieving the SDGs by making extensive use of ICT to provide innovative services while continuously taking on challenges with a firm eye on what lies ahead.
Contributing to SDGs by Realizing a Low-carbon Society through the Use of ICT
CLIMATE ACTION

From a global perspective, we will focus on improving the energy efficiency of ICT-related equipment and plant facilities that place a significant burden on the environment and strive to preserve the global environment to pass on a green, healthy planet to the next generation.

AFFORDABLE AND CLEAN ENERGY

Telecommunications buildings and data centers owned by NTT Communications use clean energy generated by environmentally friendly solar power. We are very focused on the use of renewable energy to stabilize waste power generation at incineration plants by using deep learning to automate control along with other efforts.

RESPONSIBLE CONSUMPTION AND PRODUCTION

We are effectively applying deep learning to facilitate the predictive maintenance of mechanical parts in order to reduce waste by determining the optimal timing for replacing parts. And these methods have potential for application in areas other than manufacturing.