CASES
Harnessing Deep Learning to Ensure Stable Production and Environmental Compatibility of Next-generation Plants

Expectations are rising for the use of ICT to bring about a low-carbon future. As a leading ICT company, we relentlessly strive to provide next-generation solutions one step ahead of the times.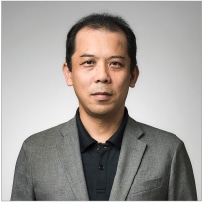 Koji Ito
Senior Manager, AI Technical Unit,
Technology Development

Handing Down Technologies at a Chemical Plant
The issue of energy conservation in manufacturing is important for the industry as well as for mitigating global climate change.
In addition, the labor shortage caused by the declining birthrate and aging population has recently raised concerns over a decline in technological skills.
Handing down technological know-how is a particularly challenging issue for controlling chemical plants where complex and varied chemical reactions take place that depend on the knowledge and experience of veteran engineers. To address this, we developed the Digital Twin for plants jointly with a measuring instrument manufacturer that applies deep learning, the core technology of AI. To state simply, this is a mechanism for simulating the behavior of a real plant by replicating its "twin" in digital space.
It is an effort to apply deep learning to create a model from the massive amount of process data and identify the optimal parameters for controlling the plant.
Saving Energy by Optimizing Plant Behavior
In March 2019, we simulated the chemical plant's behavior using its Digital Twin. We then ran an automatic search for the optimal parameter values out of approximately 2,500 patterns, which matched the values arrived at by an experienced consultant.
This shows that the Digital Twin could be used to improve the controls of an actual plant.
In addition to optimizing operational behavior, the AI-based Digital Twin of the chemical plant can also be used to predict quality and detect signs of abnormalities.
Since this leads to raising operational efficiency, the Digital Twin also provides advantages from the standpoint of building advanced energy management systems.
We plan to hone the results of our verification test further in order to enable the transfer of technology using AI and help bring about a low-carbon society.
◆

Digital Twin of a Chemical Plant Based on AI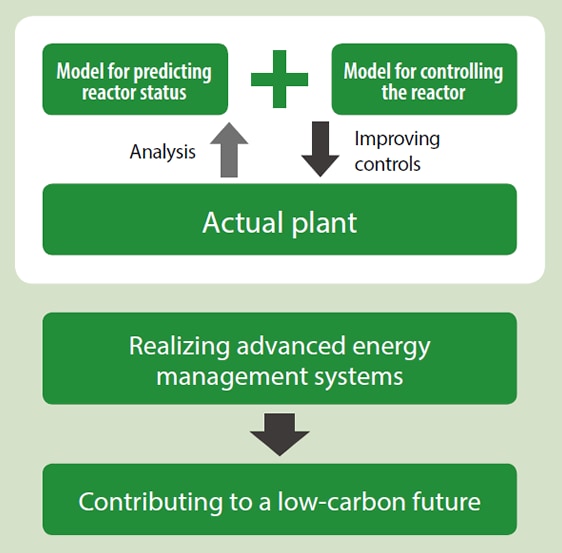 NTT Communications'Actions toward the SDGs
The NTT Communications Group contributes to achieving the SDGs by making extensive use of ICT to provide innovative services while continuously taking on challenges with a firm eye on what lies ahead.
Contributing to SDGs by Realizing a Low-carbon Society through the Use of ICT
From a global perspective, we will focus on improving the energy efficiency of ICT-related equipment and plant facilities that place a significant burden on the environment and strive to preserve the global environment to pass on a green, healthy planet to the next generation.

We use solar power at telecommunications buildings and data centers in Tokyo.
Looking ahead, we will continue to proactively use clean, renewable energies to reduce GHG emissions.

We are effectively applying deep learning to facilitate the predictive maintenance of mechanical parts in order to reduce waste by determining the optimal timing for replacing parts.

We are making an effort to preserve sustainable marine resources by performing environmental assessments prior to laying out a subsea communications cables and carrying out minesweeping upon construction as well as through our activities to preserve ecosystems such as corals.