Dialogue
The NTT Communications Group is creating opportunities to conduct discussions with various stakeholders, with the view to engaging in a dialogue that facilitates closer communication.
NTT Communications Adapts CSR to Accelerating Global Trends
In 2016, we advanced CSR activities and updated our fundamental policy and medium-term action targets. We invited Ms. Kuroda from CSO Network Japan to talk with Mr. Eiichi Tanaka about the significance of CSR and their future expectations.
Background and Objectives of Updated CSR System
Kuroda:

2016 was a significant year for CSR at NTT Communications, as the CSR action system was updated. I participated in this process as an advisor, and came to appreciate the strong motivation of management to improve NTT Communications' interactions with society on various levels. Why did NTT Communications decide to update its CSR system, and what are its objectives now?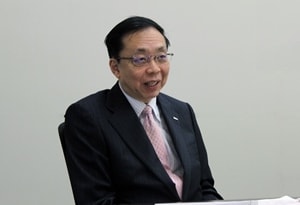 Tanaka:

We have produced results by implementing a PDCA cycle based on our current CSR action targets, which were formulated in 2011. However, five years have passed since then, and our business environment has changed as well. We aim to reenergize CSR and meet the expectations of society by flexibly adapting to the latest trends. This is why we decided to update our CSR objectives.
I can give three specific reasons for the update. Firstly, the globalization of business has accelerated. In a seamless global economy, our operations span across 196 countries and regions. As a result, we have more opportunities to engage with various stakeholders than ever before, and our responsibilities have increased as well.

Secondly, we see more opportunities around the world to create sustainable societies and reach across borders. With regard to environmental issues, the world has reached a major milestone, in my opinion, as countries around the world have increasingly approved and participate in the United Nation's Sustainable Development Goals (SDGs), which aim to comprehensively solve social issues, and the Paris Agreement has been signed with the aim of combating and slowing climate change. The NTT Group has committed to participating in SDGs, and we continue to examine ways to push initiatives forward on this front.

Thirdly, we have updated our business vision. We have refreshed our management vision through 2020. Our new vision, "Transform. Transcend." embodies our mission as a global ICT company to support the information infrastructure of society, and our commitment to constantly create new value for society. In other words, the aims of our new vision for all Group employees are in harmony with our CSR principles, to create communities that are safe, comfortable and abundant
These three reasons are why we updated our fundamental CSR policy and medium-term action targets. We aim to create value for society and fulfill our obligations to society through the self-motivated actions of each and every employee. This is what I would emphasize the most about our new CSR action system.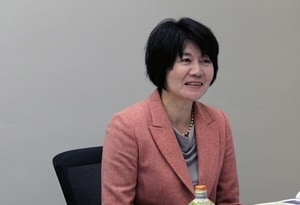 Kuroda:

Corporations aim to maximize their positive impact on society while minimizing their negative impact. It would be ideal if all employees engaged in CSR. I believe the points you made dovetail with expectations such as these. Would you mind explaining the new fundamental CSR policy and highlights of the medium-term strategy?
Tanaka:

First of all, our new fundamental CSR policy consists of four areas: society, the environment, and human resources as before, plus unwavering corporate governance as a new basic element. At the same time, we have clarified our goals for each of these areas using brief slogans readily understood by our employees, namely contributing to society, respecting employees, protecting the environment and constantly strengthening corporate governance. As new medium-term objectives, we have decided on priority domains in accordance with the four areas and priority activities as specific actions to take. PDCA is the basis of our future initiatives. More details can be found in our CSR report.
Tying Together Outcomes to Create Unique Value
Kuroda:

I appreciate how value creation and responsibility are thoroughly integrated in the priority activities of these four priority areas. I look forward to the outcome of value creation initiatives as NTT Communications takes on the thorny issue of improving business profitability while solving social issues at the same time.
Tanaka:

As you pointed out, accomplishing both will indeed be a challenge, and we are bent on this task every day. We are already seeing results from our efforts. For example, in terms of contributing to society, we are developing solutions that take advantage of advanced technologies available to an ICT company, such as Internet of Things (IoT) and artificial intelligence (AI), in a bid to create a better society. COTOHA, a communications engine we launched in October 2016, is an AI system able to converse like a human, by understanding natural Japanese with high precision and posing questions for required information. COTOHA is being deployed at contact centers that are struggling to hire sufficient numbers of personnel. In terms of contributing to the global environment, NTT Communications offers cutting-edge data center services with minimal carbon footprints at 150 locations around the world, and this contributes to the realization of a low-carbon society by lowering the carbon footprints of our own facilities and our customers. In terms of respecting our employees, we have put in place a framework that enables women to continue working throughout each stage of their lives. Our efforts have been recognized with the Eruboshi certification, which is given to companies that have made exemplary progress toward goals outlined in the Promotion of Women's Participation and Advancement in the Workplace Act.
Taking on Challenges and Sharing Viewpoints to Fulfill Our Global Responsibilities
Kuroda:

I think NTT Communications will see splendid outcomes from these efforts. As global operations expand, I expect NTT Communications to accelerate the creation of value globally as these outcomes and value systems are shared more with overseas Group companies. At the same time, I recognize the increasing importance of responsibility as CSR permeates overseas Group companies. For example, a global corporation like NTT Communications plays a prominent role in ensuring human rights are respected and procurement practices are fair throughout the supply chain. Promoting CSR activities throughout the supply chain is a critical issue taken up in a variety of global initiatives, and Japanese companies are increasingly required to take action on this front.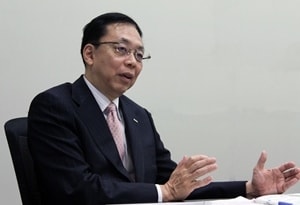 Tanaka:

Enhancing CSR activities from a global standpoint is a core mission of ours in the globalization of our CSR activities, and an integral part of our new fundamental CSR policy and action targets shared and used across the Group. I believe business leaders in particular must have an acute sense of the position of CSR in the world. What topics should Japanese companies be aware of the most?
Kuroda:

To begin, respect for human rights and fair procurement practices are vital, mutually intertwined issues. In addition, respect for human rights and diversity are becoming more intertwined and important. One topic that is more relevant to the operations of NTT Communications is the duty to observe the rights of children in corporate communications and advertising. Amid trends toward a seamless global economy and borderless business activities, Japanese companies will continue to develop business around the world, making these issues even more relevant. Do you agree?
Tanaka:

It is exactly as you say. The issues that you brought up are being tackled by the entire Group, and we will make further progress on these issues. As you know, global society and economic conditions are quite diverse, and we make a tremendous effort every day to advance CSR in tune with local communities and share our value system across the Group, while understanding the importance of taking a clear, universal vantage point. In addition to our internal business units, we believe these issues are key to realizing better relationships with a variety of stakeholders, including business partners, NPOs and local communities.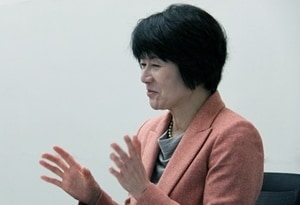 Kuroda:

I am impressed with your awareness of these issues, especially the principles and values of the SDGs. Of the 17 SDGs that are common to various stakeholders, there are many areas that share similarities with the initiatives underway at NTT Communications, such as realizing a recycling society and creating sustainable communities. I believe it also matches the basic posture of NTT Communications in the search for new businesses that fulfill social needs. I look forward to witnessing the progress NTT Communications makes in its global CSR activities.
Tanaka:

I hope we can produce results that serve as a role model for the NTT Group. I look forward to your continued advice and guidance in the future.
Kaori Kuroda, Executive Director of CSO Network Japan

She also serves as Japan Director of the Asia Foundation based on the partnership arrangement between the Foundation and CSO Network Japan.
Prior to the current position, Ms. Kuroda worked at a leading Japanese company in Tokyo, the Center on Japanese Economy and Business at Business School Columbia University in New York City and the Asia Foundation, Japan.
Ms. Kuroda was a Japanese NGO Expert for developing ISO 26000 (ISO Standard for Social Responsibility) from 2007 to 2010. She currently serves as a member of the Working Group on ISO20400 (ISO Standard for Sustainable Procurement) in Japan and the Working Group on Sustainable Procurement Code for the Tokyo 2020 Olympic and Paralympic Games. She is a member of the Roundtable for promoting Sustainable Development Goals (SDGs) established by the SDGs Promotion Headquarters at the Prime Minister's office.
She also serves as a board member of Sustainable Development Solution Network (SDSN) Japan and a member of Shakai Kouken Iinkai (Social Contribution Committee) at the Japan Football Association.