Global Cloud Vision 2016
Our Global Cloud Vision aims at contributing to customers' management innovations (Digital Transformation) through optimizing their ICT environments by Seamless ICT Solution.
NTT Com provides Seamless ICT Solution, a globally optimal combination of various services such as Cloud, Colocation, Network, Application, Security and Managed ICT, leveraging the capabilities as a network service provider.
Our Seamless ICT Solution realizes:

Globally integrated and managed ICT environments
Low-cost, flexible and on-demand ICT environments
Safe and secure ICT environments for businesses
We support customers' efforts to innovate their business processes such as acceleration of decision making and improvement of productivity, and create new businesses.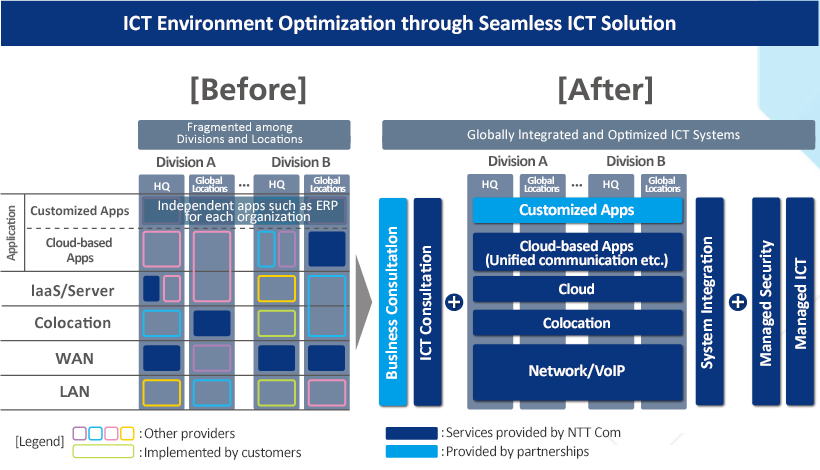 Contributing to customers' management innovations through optimizing their ICT environments
Network
Arcstar Universal One is a secure and high-quality network service available in 190 countries/regions worldwide.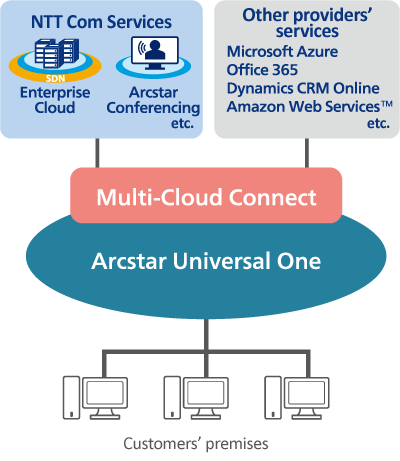 Arcstar Universal One Multi-Cloud Connect (Right)
Arcstar Universal One Multi-Cloud Connect is compatible with a multi-cloud environment, offering free-of-charge or low-priced connection to NTT Com's cloud service, Enterprise Cloud, and other providers' cloud services, including Microsoft Azure, Office 365, Dynamics CRM Online, or Amazon Web ServicesTM. Compatible services and coverage areas are steadily expanding. The service is available free of charge when customers connect at best-effort 100Mbps speeds.
Arcstar Universal One
Advanced Option Virtual Appliance Type
Advanced Option Virtual Appliance Type offers cloud-based network functions such as firewalls or application acceleration as a competitively priced on-demand service. It utilizes Network Function Virtualization (NFV), a network architecture that uses virtualization technology to manage traditional network functions via software on a general-purpose server.
*NFV: Network Function Virtualization. The technology enables network functions, which have been provided by using dedicated equipment, with software on general-purpose servers using virtualization technology.
Submarine cables
NTT Com's global submarine cables are the backbone ensuring our high-quality, low-latency network service.
PC-1:Pacific Ocean cable stretching between Tokyo and Chicago and offering the lowest latency between those cities.
ASE:Connects Japan, Hong Kong, and Singapore with the lowest latency between Tokyo and Singapore.
APG:The largest design capacity in Asia, connecting Japan, Korea, China (Shanghai and Hong Kong), Singapore, and Thailand. Expected to begin operating in the third-quarter of 2016.
Page Top
Data Center

NTT Com operates high-quality, flexible and cost-efficient Tier III-IV data centers in major global cities.
Launch date or launch schedule are given in parentheses
China Hong Kong Financial 2
(December 2015)
UK Hemel Hempstead 3
(March 2016)
US Texas Dallas 1 (TX1)
(February 2017)
Germany Munich 2
(1Q 2017)
■Number of Data Centers and Server Floor Space

Page Top
Cloud Service
Enterprise Cloud is a globally integrated, seamless cloud service available from 15 locations in 12 countries (planned). Enterprise Cloud 2.0, a new service option for the development and operation of infrastructure systems and cloud-native applications, was added in March 2016. In addition to Japan, the U.K., and Singapore, where it has already been rolled out, Enterprise Cloud 2.0 will be coming to the U.S., Australia, Hong Kong and Germany, as of April 2016.
Main Advantages of Enterprise Cloud 2.0
Hosted Private Cloud as multi-hypervisor virtual environment or bare-metal hosted environment
Shared Cloud
Cloud Management Platform offers unified management of platforms provided by NTT Com and other providers, including Microsoft Azure and Amazon Web ServicesTM.
Extensive APIs enable concentered control regulations and flexible network settings.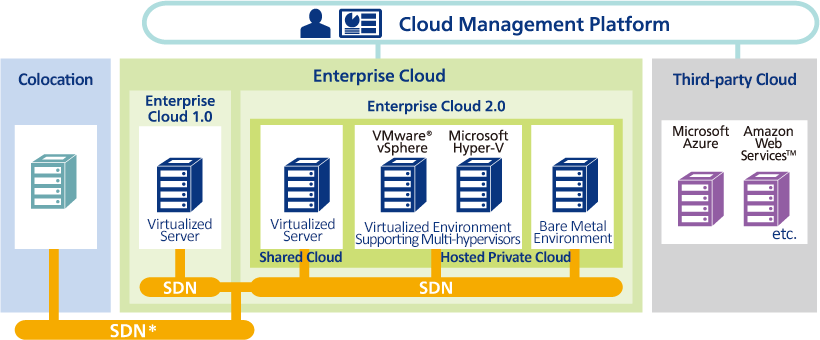 *SDN: Software-Defined Networking. The technology enables flexible changes of network configurations through centralized software-based control of communication devices constituting the network. The term may also refer to networks using SDN.
■Network among Data Centers
NTT Com offers large-bandwidth network connections among its more than 30 global data centers, connecting Enterprise Cloud and colocation facilities at up to 10 Gbps.
Price:
Cloud - Cloud:Free
Cloud - Colocations:Low cost
Colocation - Colocations:Low cost

Page Top
Management Services

Global Management One is a globally standardized, high-quality management service that operates, monitors and protects customers' entire ICT environment, including WAN/LAN networks, cloud, on-premise applications and services from other providers. By using an integrated automated platform, it contributes to efficient and cost-effective operations. (ITIL v3 compliance, ISO 20000)

WideAngle is a globally standardized and high-quality comprehensive risk management service that investigates, monitors and manages any security risks in a customer's ICT environment. In addition to consulting services drawing on our extensive experience, the service delivers highly precise threat detection using NTT Com's original Security Incident and Event Management (SIEM) engine, which automatically analyzes log information such ICT equipment communication history to quickly detect threats.
ID Federation is a cloud-based authentication and access management service that provides multi-factor authentication of internal enterprise systems and other providers' applications with one ID, tailored to each customer's security policy.
Page Top
Cloud-based applications
■Arcstar UCaaS(Cisco / Microsoft)
Arcstar UCaaS is a cloud-based unified communication service that realizes efficient communication by connecting VoIP, voice mail, instant messaging and web conference functions to a single login.
Arcstar Conferencing is a cloud-based conferencing service that provides audio, web and video solutions according to customers' needs. The service reduces expenses for business trips and supports timely information sharing and decision-making. Audio conferencing delivers competitively priced, high-quality phone conferences in 15 countries/regions. Web and video conferencing enables customers to communicate via voice and video while sharing materials and screens with other participants.
Page Top
Customer Portal and API Gateway
■Business Portal
Business Portal is a customer portal that visualizes the status of NTT Communications' major services and enables customers to change their settings on demand and in a timely manner.
■API Gateway
API Gateway is a free portal that enables system developers to use their own IT systems to directly browse and customize information regarding the application, operation and management of NTT Com IT services. Interoperability with customer systems can be assessed by confirming API specifications for each NTT Com service.
*API: Application Programming Interface. It is a mechanism to programs to invoke and use another program.
Page Top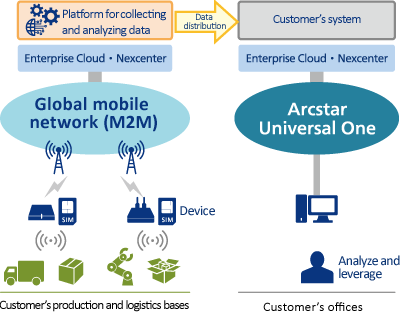 IoT Platform leverages NTT Communication's global network, cloud and datacenters to provide one-stop application platforms that store, visualize and analyze data collected from IoT devices.
Advantages:
Secure M2M communication in 188 countries without using the internet
Choice of more than 140 data centers worldwide to store important data
Lineup:
A line up of tailored services for various purposes, including manufacturing, will be made available
Page Top
Solution Model
NTT Com offers Solution Model to address ICT challenges customers are facing by combining various applications and NTT Com's Cloud and Network.
Examples:
Communication Platform Solution

We provide reliable and secure communication platform by combining Microsoft Exchange on Cloud with various networks.
Microsoft Dynamics AX on Enterprise Cloud and Azure Solution

Combined offering of Microsoft Dynamics AX and our Cloud/Network realizes integration of global system platforms, rapid deployment of core systems and standardization of operational processes.
We offer optimal SAP solution by providing SAP-certified, high-quality and highly-secure cloud service together with SAP BASIS operation and network.