CSR Report 2015
Top Message
We will contribute to society from a global perspective to resolve social issues and achieve sustainable development.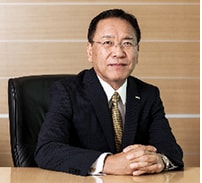 By providing the latest technologies and safe and secure as well as highly reliable information and communications technology (ICT) services, we at the NTT Communications Group like to consider ourselves as the best partner for contributing to corporate management reforms and for bringing about enhancements in personal lifestyles.
It goes without saying that the ability to make the accurate and rapid decisions demanded in corporate activities will as a rule be absent if the ICT environment that can support those decisions is not in place as a business foundation right now.
Taking this kind of standpoint, we have formulated our Global Cloud Vision, which brings together wide- ranging innovative services in such areas as cloud computing, networks and security. Moreover, through the further seamless deployment and provision of these services on a global basis, we will bring about improvements in the speed of our customers' business management and contribute to enhancing their competitiveness while supporting them in such areas as new market cultivation and penetration.
With regard to individual customers, over the years to come we want to continue providing services that enable them to conveniently enjoy new lifestyles with confidence. To that end, while protecting customers from all forms of cyber threat, we will continue to respond quickly and sensitively to deliver services that provide new value.
In addition to accelerating the pace of our involvement, in the years ahead we will strive to act responsibly as members of society to enable us to constantly ascertain market trends and customer needs rapidly and accurately as well as to continue providing innovative, highly reliable services. In association with these activities, we will value communications with all our stakeholders, including our customers throughout the world, and will continue working to help resolve social issues and achieve sustainable development by initiating CSR activities worthy of a Global ICT Partner.

President and CEO
NTT Communications Corporation
CSR Performance Report
About CSR Report 2015
Special Feature
Global Promotion of "Value Creation for a Better Future" Concept
Stakeholder expectations are growing for the development of products and services that will contribute to the solving of societal problems.
Having positioned the "Value Creation for a Better Future" Concept as a Group-wide challenge, we will promote business development.
About CSR Report 2015
Details of the Group's approach toward compiling and issuing this report as well as supplementary information and data.
CSR Report Editorial Policy
Information about our policy and approach toward creating the highlight version and expanded version, our methodology for choosing key information to report, and a profile of the report.
PDF Download / Back Issues
If you have any questions or suggestions about the report, please feel free to send them directly to us via our website.
GRI Guidelines Comparison Table [104KB]
An index and a table allowing readers to compare the guidelines we followed with those of the Global Reporting Initiative's Sustainability Reporting Guidelines (Version 4.0).
Activity Results and Targets in Line with CSR Index
Fiscal 2014 performance data and Fiscal 2015 activity targets