Protecting the Environment
Environmental Statement & Eco Strategy
Five years have passed since the NTT Communications Group announced "THE GREEN VISION 2020" in 2010.
On this occasion, the NTT Communications Group has reviewed its environmental activities looking to the future beyond 2020 while taking into consideration worldwide trends concerning the global environment.
The NTT Communications Group has formulated "The NTT Communications Group Environment al Statement" as its overarching policy for promoting environmental activities. In this statement, we have expressed the type of group we would like to be in order to fulfill our responsibilities toward the global environment in the future. The NTT Communications Group has also put in place its "Eco Strategy 2030" as a guide to help realize the future outlined in "The NTT Communications Group Environment al Statement."
Working in unison, each and every employee worldwide will engage in environmental activities by providing technologies and services that pioneer eras. In this manner, we will work diligently to ensure a future in which people and the planet remain in harmony.
The NTT Communications Group Environmental Statement
The NTT Communications Group Eco Strategy 2030
Under the "Eco Strategy 2030," we have set out specific initiatives to help realize the three futures outlined in the "Environmental Statement."
NTT Communications Environmental Strategy Guidelines
In conjunction with Environmental Statement, we are establishing wide-ranging guidelines with regard to our environmental activities. By constantly adhering to these guidelines we will demonstrably fulfill our responsibilities in respect of diverse environmental issues.
Promoting Global Environmental Management
The NTT Communications Group has placed the utmost importance on advancing its environment strategy in unison with overseas bases. Accordingly, the Group has taken steps to put in place a global-scale environmental management platform since fiscal 2009.
In fiscal 2012, the Group appointed environmental management officers at each of its operating bases in a bid to further enhance and develop its global environmental management structure. From fiscal 2013, energies will be channeled toward convening a global environmental management meeting as a part of efforts to share those initiatives undertaken to reduce environmental load in each country throughout the Group as a whole. At the same time, the Group will pursue and promote a bottom-up approach with respect to environmental management activities.
<Topics>
■Received an award of excellence for the greenhouse gas reduction initiatives from Kagoshima prefecture (Feb. 15, 2017)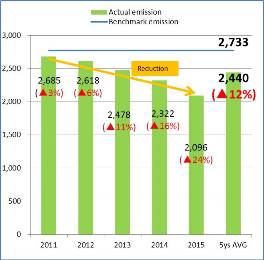 NTT Communications received an award of excellence from Kagoshima prefecture for the greenhouse gas reduction initiatives at Kagoshima Perth building, the telecommunication building. The award recognizes our various initiatives in the building such as improvement of air flow, innovative air conditioning technology, and switching to LED lighting and they can be a model to other businesses to implement. As a result of initiatives, we have managed to reduce amount of greenhouse gas for 12.1% compare to the 2010 emission.

■Won the first place for 20th annual "Nikkei corporates environment management survey" (Jan. 23, 2017)
NTT Communications has scored high 395 of 400 full marks and once again won the first place among the 55 other corporates in the telecommunication/services category of the survey. It evaluates corporate's environmental management practice which consist approx., 150 detailed questions in following four categories; 1: Corporate's environment policy 2: Contamination management/biodiversity issues 3: Recycling program 4: Initiatives climate change and global warming. In 2017 survey, our new 2030 environment vision, collected energy use data of the global affiliate companies, innovative air conditioning technology in the Data centers, initiatives to address biodiversity, and improved recycling rate are especially recognized by Nikkei Newspaper, the survey organizer.

Looking Back Over the Green ICT Vision 2020
Please see the results of Green ICT Vision 2020 formulated in October 2010